Get to know the people behind the platform! Meet Travis Franklin, one of our software engineers. He sat down with us to talk about his role, his background and experience, and what he loves most about working here.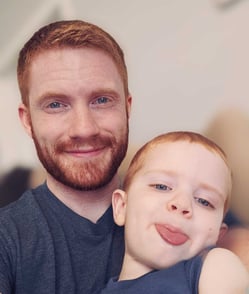 What do you do at Groundfloor?
I'm a software engineer specializing in frontend development. This basically means that I work on building the elements of our platform that users directly interact with in order to facilitate and streamline their overall user experience. My ultimate goal is to make Groundfloor's product as intuitive, efficient, and gratifying to the user as possible.

Where are you from?
That's somewhat of a difficult question for me because I grew up a little bit of everywhere! Both of my parents were missionaries, so we spent a lot of time traveling and living in a wide variety of places (though our home base was Nashville, TN). I've been to all 50 states as well as tons of different countries. Off the top of my head, we spent a lot of time in Peru, Nicaragua, England, France, Belgium, Germany, Switzerland, Italy, Czechia, Romania, Russia, Ukraine, and eastern Siberia just north of Mongolia.
Having to constantly adapt to new places, languages, and cultures helped me get used to rolling with the punches, which has really helped me in my career. When you're at the forefront of an industry like Groundfloor is, things are always shifting and changing as we adapt to new market conditions, develop new products and features, and make upgrades to our platform and user experience. So being as comfortable with change as I am is definitely an asset!

Tell us a little about your background. What made you get into engineering?
Believe it or not, I've only been a software engineer for about two years! The majority of my career has been in marketing and design. I've always been super into design, even from a young age -- in fact, whenever I'd travel with my parents and we'd be waiting in the airport or on a long road trip, I'd always steal my mom's laptop and design things in Photoshop -- so it was only natural for me to lean into this love of design as I grew up.
In college, I studied advertising, and got a job straight out of school working at an ad agency for a nursing home. I had a lot of fun coming up with ideas of how to market activities like "chair yoga" (Get fit while you sit!) and rehabilitation therapy. When I moved to Nashville about a year later, I worked as a graphic designer for a group of about eight companies that essentially helped expand people's influence and transition from one career to another -- for example, we'd help celebrities become bestselling authors or public speakers -- which meant I handled a lot of marketing-focused work. This graphic design role then evolved into a marketing director role, so I was in charge of marketing campaigns, branding and web design for all of the companies. It was a lot!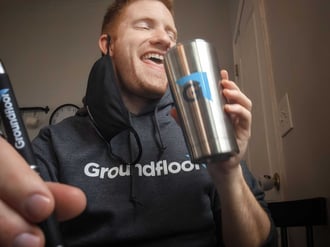 How did you come to work for Groundfloor?
After several years in the marketing director role I just described, I eventually realized that I wanted to expand from just designing awesome websites to building them. So I decided to go back to school to study frontend development. After completing my program, I did some freelance work for multiple awesome startups, then came to work for Groundfloor as a frontend developer. Groundfloor is my first full-time gig as a software engineer, and I'm really enjoying it so far.

Your department has been seeing a big influx of new hires. How has it been working on a team that is experiencing such rapid growth and change?
It's honestly been wonderful. Justin [Burris, Director of Engineering] and my direct manager Ben Webb have both been great about clearly communicating changes, and the transition has been very well-managed. From my perspective, the engineering team has adjusted really well to the transition from a small to a large team. You can tell that everyone in leadership cares very deeply about building out the team in the right way and making the process easier and less taxing on the new folks coming in. A lot of work has gone into making the adjustments as easy and streamlined as possible.

What excites you most about Groundfloor? What is your favorite part about working here?
I think one of the things I like most about Groundfloor is how much our leadership cares about making an investment product that's not only good in a financial sense but also good in a social sense. We've put a lot of thought into how our real estate loans can create positive change in the communities we work in. A great example of this is in our recent partnership with fellow Atlanta-area startup PadSplit, in which we are working together to provide more affordable and safe housing options to vulnerable communities. Our team has had many conversations about how we can use our platform and business model to help reduce the negative impact of gentrification within communities, especially as the affordable housing crisis continues to worsen. You'd never imagine that a company whose main business is real estate development would ever care to have such conversations -- but we do. We're encouraged to always look for new and innovative ways to leverage our unique model to make the world a little bit better.
Additionally, I like that Groundfloor is making something accessible that isn't normally. A big part of my job as a frontend developer is centered around accessibility -- for example, making sure that our platform is optimized for vision-impaired users, etc. -- and I love that this extends not just to the design of our site but also to the entire premise of what we offer. It's refreshing and exciting to work for a company that does things that I believe in. I'm having a really great time.

Which of the Groundfloor company values resonates most with you and why?
I'd have to say kindness. Everyone at Groundfloor actively looks for ways to be kind, to help people, and to show that we care, for both employees and customers. I feel strongly that if you are creating a product with empathy, it will sell. Kindness always wins when you're building something you want people to use and experience.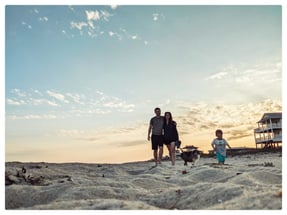 How have you been staying sane during quarantine? Any fun "quarantine projects?"
I did pick up the ukulele during quarantine! But for the most part I haven't had time for new projects or hobbies. I'm sure all the parents out there can understand when I say that quarantine has been interesting, to say the least! I have a two-year-old, and after having to pull him out of daycare due to COVID-19, my wife and I had to figure out how to both continue working while also continuing to care for our boy full-time. We don't have family living close by, so we've been sharing the childcare duties between both of us. We've honestly had to use a whiteboard to keep track of who has meetings when, so we can schedule kid-time without interrupting our work. Groundfloor has really been so wonderful through all of these adjustments. We have a lot of employees that have kids, so everyone is very understanding and supportive.
It's definitely been a challenge, but I wouldn't change a thing. I am so thankful that I've gotten to spend this much time with my son, and it's been so incredible watching him grow and develop.


Thanks so much, Travis! We're happy to have you as part of the team!