Get to know the people behind the platform! Meet Reid Schermer, Groundfloor's Head of Special Servicing. We caught up with him to talk about his role, how he came to work for Groundfloor, and what he enjoys most about the company.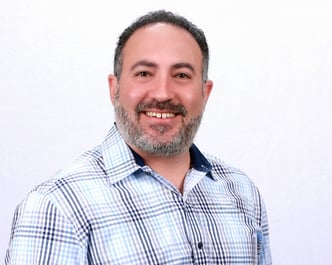 What do you do at Groundfloor?
My role as Head of Special Servicing is to provide leadership and support to the Special Servicing team, which is part of the Asset Management department. Our team is tasked with shepherding loans that approach maturity or exceed maturity through the process until they repay. Groundfloor's Special Servicing associates work closely with borrowers to identify potential challenges and provide direction. We also provide support and solutions towards the repayment of loans.
Each and every day, the team is focused on building relationships with both internal as well as external stakeholders, strengthening our existing borrower communication and delivering exceptional customer service. With a fiduciary responsibility to our investors and ensuring professional stewardship of their investment, we aim to create a professional and consistent experience for Groundfloor borrowers and investors alike.

Where are you from?
I was born in Queens, New York, then grew up in south Florida. The family moved to Atlanta in 2012 and we love living in the South.

What is your background and experience?
Right out of college, a career in the public sector found me working for the city of Coral Springs, FL as part of the planning and zoning department. Eventually I was offered a role with one of the nation's largest homebuilders, which allowed for new challenges and experiences in various aspects of the industry, including homebuilding, land development, acquisition, etc. I've been fortunate to have worked on several large-scale master planned communities and neighborhoods throughout my career and I've always enjoyed creating something new. As time went on, a continued focus on expanding my experiences led to new opportunities and knowledge about real estate. Expanding into the fields of REO Asset Management as well as Property Management, including homeowner and condo associations, has created an understanding of operations and accountability that is applied every single day.
It's been over 20 years in this industry and I still love it – the opportunity to improve customer experiences while delivering products and services that enhance lifestyle and economy is what continues to motivate me.

How did you come to work for Groundfloor?
The desire to be part of a tech startup operating in the real estate space with a mission I believed in was what initially attracted me to Groundfloor as a company. The company's mission and investor base truly resonated with me: Groundfloor is democratizing real estate investing by offering an investment path to anyone and everyone interested in this space. Through Groundfloor, everyday investors are able to participate in national neighborhood stabilization efforts by financially supporting entrepreneurs who rehabilitate our nation's aging housing stock where it's needed most.
At the time, I was looking for a new opportunity in my career that married fintech with real estate, and I felt this role would be an exciting new challenge. That's exactly what it has been! Groundfloor pulls me out of my comfort zone and gives me the chance to grow as a professional.


How has the Special Servicing team evolved as Groundfloor continues to grow as a company?
Special Servicing focuses our efforts and energies on continually improving our communication with borrowers as well as providing timely and impactful updates to our investors. We've also worked hard to build and foster relationships with all stakeholders, both internally and externally. As a team, we are continually improving our processes to be more efficient and productive, and provide exceptional customer service for borrowers and investors alike.
We place particular emphasis on the importance of practicing empathy and understanding in our conversation with borrowers. We are tasked with having difficult conversations with borrowers from time to time. However, our purpose is to support them and work with them to complete their projects and get those loans repaid. Regardless of the situation, it is important to communicate the difficult matters with empathy. Even if we foreclose, our tone and conversation is expressed with understanding of the impact this has on everyone involved.

What excites you most about Groundfloor? What is your favorite part about working here?
What I love most about Groundfloor is the opportunity we get to build something bigger than ourselves, to create homes and communities. While working as a homebuilder, one of my favorite activities was to drive through completed communities. Watching life happen after construction was completed provided a sense of purpose and satisfaction that we'd created something good for people. It's a beautiful thing to see couples on walks holding hands, children playing ball in the front yard, and families enjoying grilling in the backyard. When you're able to build something like that, it's a level of job satisfaction that's hard to beat – and that's what we get to do at Groundfloor. Each time a loan pays off and a family moves into their new home, we've contributed to the revitalization of a community.

Which of the Groundfloor company values resonates most with you and why?
For me, the two most important values are commitment and accountability. At Groundfloor, we do what we say we will do. When we make a commitment, we follow through – whether that's providing updates to investors about the status of projects or making sure we guide borrowers to a successful payoff, we're always working to ensure we can honor our commitments to our customers.

When you're not at work, what can we find you doing?
I really love cooking for and with my family. We kind of make an adventure out of it – I'll spin a globe and pick a recipe from wherever my finger lands! I guess you could say we're big fans of adventuring in general. We love spending time outdoors, going on hikes or visiting small towns around the southeast, and we love hopping in the car for a day or weekend adventure.
We've developed quite an extensive library at home and collect books from the 18th and 19th centuries. Many are well known works of literature and poetry – the oldest books I have are a series of British plays from 1776!
Finally, we foster dogs through a local pitbull rescue organization – specifically, we take in pitbull puppies to help train them and get them ready to be adopted. Of course, a couple of our foster dogs ended up becoming forever dogs! Though we recently haven't had the time to be as involved as we usually are, my wife and I are both passionate about the work this organization does and we try to help out when we can.

Thanks so much, Reid! We appreciate all you do!