When we founded Groundfloor in 2013, we envisioned building a platform that not only provided individual investors with a way to add high-yield private real estate investments to their portfolios, but that also provided a way for those investors to make an impact on the world in the process. As we continue to expand our business and product offerings, we're committed to honoring this vision through innovative projects that create positive social good while also providing a wider variety of investing and diversification opportunities for our investors.
In January, we announced a new accessory dwelling unit (ADU) pilot program to increase housing density and reduce gentrification in our hometown of Atlanta. Today, we are pleased to announce the launch of a new partnership with fellow Atlanta-based real estate-focused startup PadSplit to bring a new and unique social impact investing opportunity to our investor community. This partnership unites our companies together for the first time, alongside real estate developer White Hawk LLC, which is utilizing Groundflloor's lending services to renovate homes into PadSplits. As a result of this partnership, hundreds of working-class individuals will be able to find safe, clean, and affordable housing.
PadSplit: Solving the Affordable Housing Crisis, One Room at a Time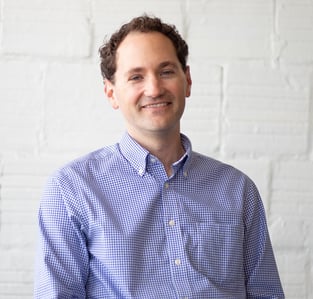 Like Groundfloor, PadSplit was born out of a desire to disrupt the status quo. After being involved in the real estate and affordable housing industries for over a decade, founder and CEO Atticus LeBlanc realized that there was a fundamental mismatch between the affordable housing supply and the needs of those who sought it. Traditional rental home environments contained a lot of inefficient, underutilized, and un-monetized space, even as demand for affordable housing continued to grow -- and existing affordable housing programs were doing nothing to incentivize more efficient housing development.
Atticus founded PadSplit in 2017 to address this problem by transforming underutilized home space into safe, clean rooms that can be individually rented out to working-class renters for a fixed weekly rate -- without having to rely on the traditional, government-backed affordable housing subsidies. Through PadSplit, real estate investors are able to maximize their profits by creating more rental units within a property, while low-income individuals are provided with an affordable housing option that includes a furnished private room, utilities, internet access, and laundry facilities. Safety and quality are critical components of the PadSplit model -- each PadSplit home must meet specific construction guidelines designed to exceed HUD standards, while renters must pass a criminal background check and screening process to qualify for housing.
Since its inception, PadSplit has helped over 1,000 low-income renters find affordable housing. The company currently has over 1,100 units spread across markets in Georgia, Texas, and Virginia, and will soon add Indiana to the list through this partnership.
PadSplit and Groundfloor: A Unique Investment Opportunity
Our partnership with PadSplit represents a new opportunity for socially-minded investors to put their money to work in projects that drive positive social change, while also providing a unique opportunity to diversify their portfolios into investments that have a distinctly different risk profile than our traditional fix and flip offerings.
Higher Returns for Property Owners & Reduced Risk For Investors
When we underwrite loans for renovation projects, our team takes a variety of factors into account to assess the loan's relative risk and determine the amount of leverage we are comfortable giving the borrower. One of the most important factors is the after-repair value (ARV), or the ultimate sale or rental price we believe the property will eventually yield after all repairs, enhancements, and construction are completed. Groundfloor typically extends loans of up to 75% of a given property's ARV. In general, the higher the loan to ARV ratio, the higher the risk, since higher ratios indicate that Groundfloor is loaning more money against the property's eventual ARV.
While the renovation projects we normally finance are designed to create single-family homes, these PadSplit projects are made specifically for higher occupancy rental properties. PadSplit properties can generate up to four times the rental income of traditional single-family rental dwellings -- meaning their eventual ARVs would be much higher than that of a normal single-family rental. However, when underwriting the PadSplit loans, our team elected to take a more modest approach to calculating the ARVs by utilizing a combination of a sales comparison and an income comparison approach to valuation. This approach can translate to a lower loan leverage and lower loan-to-ARV ratios, which lessens the risk to Groundfloor investors.
Less Uncertainty in the Renovation Process
Groundfloor works hard to minimize the risk involved in the traditional fix and flip projects we finance. Our underwriting team applies decades of real estate investing and lending experience to carefully screen borrowers, quantify the value of loan collateral presented, and assess the feasibility of completing proposed project tasks, while our asset management team proactively monitors each and every loan to keep the project on track. However, no real estate loan is ever completely risk-free -- unforeseen circumstances can arise with any project that may compromise its quality or complicate repayment of the loan.
Our PadSplit collaboration, on the other hand, carries much less uncertainty around project quality and eventual exit strategy. White Hawk LLC, the developer partner we are lending to, already has an established relationship with PadSplit and has extensive experience converting properties into their unique housing units. As a result, investors in these projects can feel confident in the quality of the eventual end product, since White Hawk knows exactly how to renovate to PadSplit's specifications and standards. Additionally, investors can feel secure in the eventual repayment of their investment capital. Since all of these projects are slated to become PadSplits, the borrower's exit strategy (and thus the eventual repayment of the loan) is already known and planned for (via a refinance to a longer-term loan) -- any uncertainty about how the loan will be repaid (i.e., whether the renovated property will be successfully sold or refinanced) is eliminated.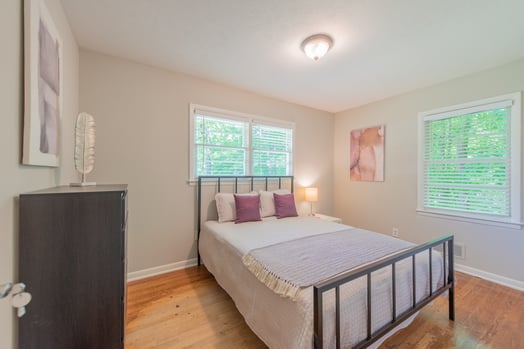 An example of an individual rental unit in a PadSplit property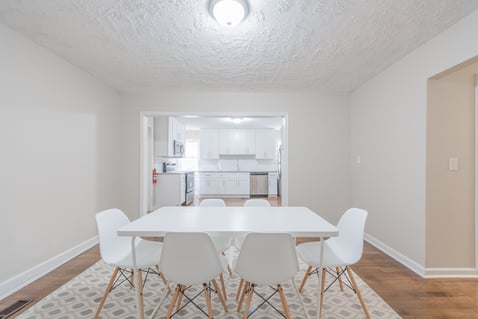 A shared dining area in a PadSplit property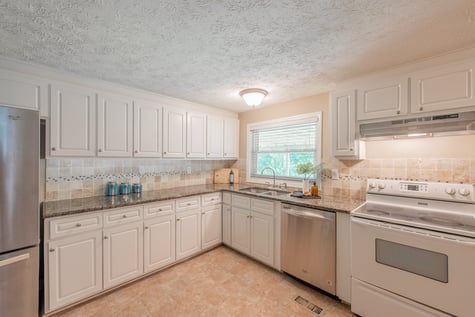 A shared kitchen space in a PadSplit property
Increased Loan Collateralization
Groundfloor makes loans to borrowers for real estate projects and uses the underlying property as collateral. Because our loans are backed by a real asset (the physical property), investments on our platform inherently carry less risk; if a borrower cannot repay their loan, we have the ability to take possession of the property and sell it to regain our money (and thus our investors' principal).
The projects we're financing through our PadSplit partnership take this protection one step further. Because we are making one overall loan to renovate entire portfolios of PadSplit properties, the corresponding LROs are collateralized by all properties in the portfolio. In other words, in the event that something goes amiss with one of the PadSplit properties, Groundfloor has recourse over that property as well as all the other properties.
Identifying PadSplit Investments on Our Platform
Our initial 36 PadSplit projects are from a portfolio of properties in Indianapolis, Indiana. Through this partnership we will be working to collaborate with PadSplit on converting more portfolios of projects in other metro areas. These PadSplit projects will be designated with a PadSplit logo on our investing page and also in the loan detail pages so that our investors can identify these LROs.


PadSplit partnership loans will be designated by a PadSplit logo on our investing page.

---
Groundfloor was founded in 2013 as a way to give everyone simple and direct access to private capital markets on equal terms. We're proud to continue offering new and innovative ways to invest in private, in-demand real estate projects while simultaneously providing maximum benefits to the communities in which we operate. This partnership with PadSplit represents yet another way we're using our platform to open up more diverse opportunities to build wealth, while also allowing investors like you to drive the creation of a better, more equitable world.
As always, feel free to reach out to us directly at support@groundfloor.us or by commenting below with any questions or comments you may have. We always enjoy hearing from you.