We are pleased to announce the launch of a new pilot program designed to spur the development of new accessory dwelling units (ADUs) in the Atlanta area. This program aims to increase the availability of affordable, in-town housing through innovative use of existing space, without compromising or sacrificing existing communities. The Groundfloor ADU pilot program will support borrowers who seek financing for the renovation or new construction of ADUs, while enabling socially-minded investors to fund these projects through our platform.
What Is An Adu?
Accessory Dwelling Units (ADUs) are the perfect way to maximize your urban property's potential! Providing additional living spaces for family, friends and tenants alike. ADUs provide an ideal investment opportunity with the possibility of monthly income alongside a rise in overall property value over time – making it clear why they're becoming so popular around cities everywhere.
Background
Like many other metropolitan areas, Atlanta has faced rapidly rising housing costs and rents in recent years as population growth continues to outstrip housing availability. Home to over 500,000 residents as of 2019, Atlanta's population is expected to grow to 1.2 million in the coming decades, meaning affordable housing options will be more in demand than ever.
In an effort to address this widespread need, Atlanta Mayor Keisha Lance Bottoms recently proposed zoning changes to neighborhoods to allow for more density. This plan, called the Atlanta City Design Housing Initiative, would allow for ADUs including detached structures, the transformation of single-family homes into duplexes, basement apartments, and garage conversions -- without substantially changing the character and feel of neighborhoods.
Through the development of ADUs on existing space in growing communities, homeowners are often provided with extra income, new spaces for multigenerational living, and more affordable rents and pricing to help mitigate the effects of gentrification.
The Groundfloor ADU Pilot Program
Our new program aims to take advantage of favorable new zoning ordinances to provide financing for ADU construction and development in impacted neighborhoods. We are piloting this program in a selection of in-town Atlanta neighborhoods, focusing specifically on neighborhoods in southwest Atlanta. Properties must have the proper zoning designations -- currently, designations R4, R4A and R5 -- in order to qualify for financing through this program.
Groundfloor has already funded several ADU projects in the program's pilot phase, with plans to do several others. The inaugural project, located in the Venetian Hills community in southwest Atlanta, is a perfect example of how the program marries investment opportunities with a compelling community narrative. The borrower, Dr. Honey Meadows, is a long-time resident of Venetian Hills and founder of the neighborhood school the Westside School. She took advantage of the opportunity this program presented to complete renovations on her childhood home -- which she plans to rent out -- while also constructing an ADU on the premises for use by a family member.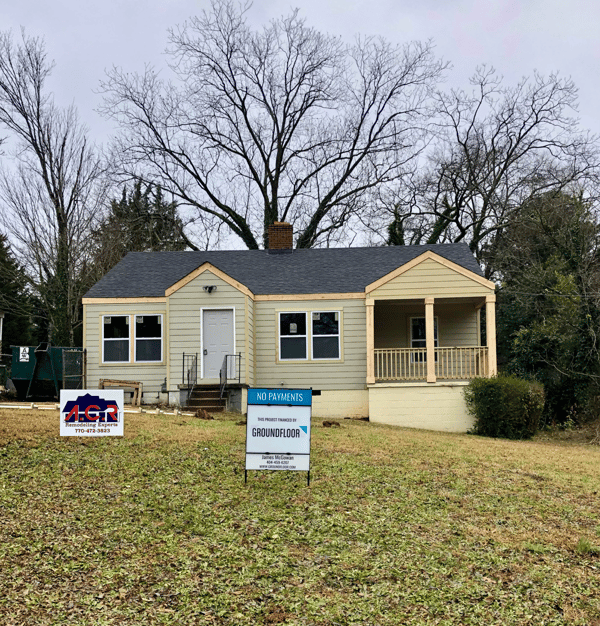 Groundfloor's inaugural ADU project site - the family home of Dr. Honey Meadows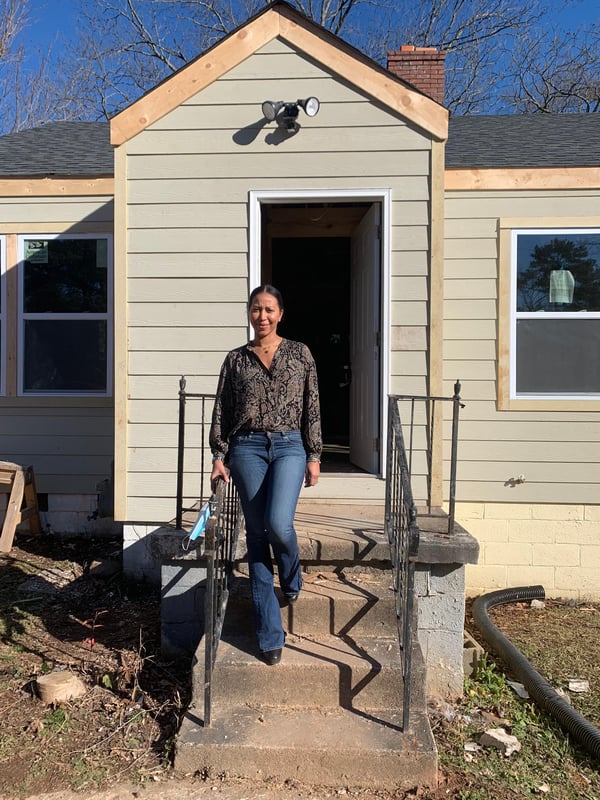 Dr. Honey Meadows in front of the project site
We are proud to provide Dr. Meadows with the financing she needs to complete this project, which empowers her to preserve her family home, earn residual income, and simultaneously provide for her relative.
Applying to the ADU Program
As with our other financing options, interested borrowers must meet certain requirements to obtain a loan from Groundfloor. Borrowers must have a minimum credit score of 600 and must create or have an entity, as we do not lend to individuals. The ADU pilot program is open to first-time as well as experienced borrowers, provided their proposed project qualifies for a loan; however, first-time borrowers should carefully consider whether they are prepared to take on the responsibilities of becoming a landlord or property manager before beginning an ADU project.
Once the loan is approved, our team pre-funds the loan, qualifies it as an investment security (limited recourse obligation, or LRO) with the SEC, and places it on our platform for retail investors to allocate funds to. As with other real estate projects currently on the platform, retail investors can incrementally invest in ADU projects with $10 at a time, and earn interest over the period their money is active in the loan.
---
Groundfloor was founded in 2013 as a way to give everyone simple and direct access to private capital markets on equal terms. We are proud to continue offering new and innovative ways to invest in private, in-demand real estate projects while simultaneously providing maximum benefits to the communities in which we operate.
Please feel free to contact us with any questions or comments you may have by commenting below or emailing our support team at support@groundfloor.us. We always enjoy hearing from you.