Get to know the people behind the platform! Meet Justin Burris, Groundfloor's Director of Engineering. We sat down with Justin to learn how he came to Groundfloor, what his day-to-day looks like, and what his surprising hidden talent is.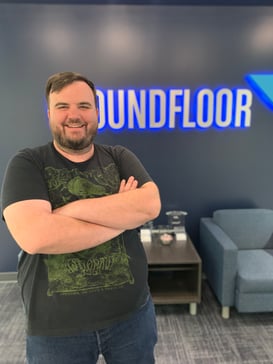 What do you do at Groundfloor?
I am the Director of Engineering.

Where are you from?
That's a little bit of a complicated question for me! I was born in Nuremberg, Germany, but I grew up in Bonaire, Georgia, a little town close to Macon. I moved to Atlanta about 10 years ago and have been in the metro area ever since.

How did you end up at Groundfloor? What is your experience?
I graduated from Georgia Southern with a BS in Computer Science back in 2010, and since then, my career has taken a kind of weird, meandering path. I've worked in a variety of different kinds of environments -- from Fortune 500 companies to startups to freelancing/working for myself -- but always within the software engineering realm.
About three or so years ago, I began looking into buying a house. However, because I was self-employed at the time, I found it difficult to receive a mortgage loan, as most lending institutions are loath to extend loans to people with self-employment income. So, I began searching for companies that would be a fit for me. One of my passions is using my skills to help make others' lives better or easier, so I was on the hunt for a job that would impart public good in some capacity.
I wasn't having very much luck until I was contacted by a recruiter who introduced me to Groundfloor. My interest was piqued -- I thought it seemed like a really unique and different company -- and after talking with Chris [Schmitt, Chief Technical Officer] and other members of the team, I decided Groundfloor would be a perfect fit.
Fast forward three and a half years later, and I'm still here! This is actually the longest I've ever worked anywhere, and I am happy to be doing the work I love with a company whose mission is to give everyone the same opportunities to build wealth through real estate. I really appreciate that Groundfloor has given me the opportunity to grow, hone my skills, and learn new ones; and I also love that the company allows me to help my teammates do the same thing.


Can you give a little snapshot of what you/your team's day-to-day looks like?
The Engineering department is comprised of about 9 people. In a nutshell, we spend our time building software that is going to serve the need of a user -- whether an investor, borrower, or someone on our team -- as quickly as possible. This process essentially flows like this: first, we take some time to learn what the users want; then, we determine how to build or adjust the software necessary to meet that need and add it into our roadmap.
The software we develop encompasses everything from website features and integrations with third-party software, to software that facilitates money transfers or that ensures smooth operations of repayments and automated emails, to all of the internal tools our team uses. Essentially, anything on the internet that belongs to Groundfloor, the Engineering department maintains, enhances, and creates.
As the director of the department, my role is to manage the people on my team, set project and feature priorities and align the team accordingly, and ensure everyone has been given the tools they need to complete their work. Additionally, I am always on the lookout for opportunities to allow my team members to grow -- as someone who was given that opportunity in the past, it's important to me to pass it on.


What is your favorite part about your job?
I'd have to say the ability to mentor and encourage others. Being able to create a space where we're enabling people to grow -- both in their personal and professional lives -- is very fulfilling. Each department head conducts weekly one-on-ones with each member of their team to talk about their performance and to make sure their goals are being worked towards in a consistent way. I love that Groundfloor is so focused on the development of everyone who works here; the company really does care and wants you to come out of working here a better person than when you came in.


What is your favorite midday pick-me-up?
It technically isn't "midday," but my favorite pick-me-up is going home to see my newborn daughter. Since my commute into work takes about an hour, I only get about 2 hours a day during the work week to spend time with her before we put her to bed. Knowing I'll get to see her when I get home really energizes me to get things done during the day.


What is your hidden talent?
I'm a huge fan of physical crafts and projects! I enjoy anything that I can do with my hands -- I've done woodworking, painting, I helped my grandfather build two houses, and I'm an amateur handyman.
I also like to draw -- in fact, I initially thought I would go into graphic design in school, but I ended up realizing computer science was a better fit.

What is your favorite item on your desk?
My space shuttle Lego set! It's really cool and it inspired me to set up my daughter's room in a space theme.
Thanks so much, Justin!