Happy New Year! All of us at Groundfloor are looking forward to all that 2022 has in store for us, and for you, our customers. Before the new year gets too much further underway, though, let's take a look back at everything we accomplished in 2021. As the world dealt with another challenging pandemic year, Groundfloor continued to grow, eclipsing projections and breaking records across all key performance indicators.
Loan Originations
After almost completely halting lending operations temporarily in Q2 2020 at the onset of the pandemic, we worked steadily to rebuild our loan pipeline, and in 2021 we accelerated our growth. We ended 2021 with a total of 1,118 loans originated, representing over $260 million. This origination volume surpassed our previous annual records by 74% and 127%, respectively. The average loan size increased by 15% from 2020, growing from $201,989 to $232,482 in 2021. To date, we have originated over 2,900 loans since inception.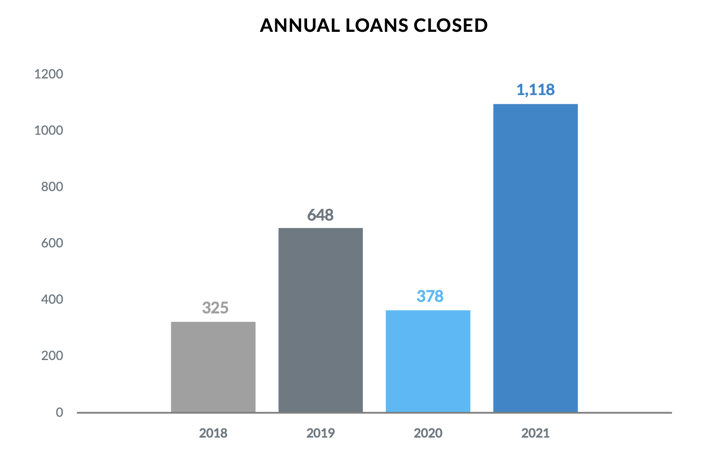 Our team continued adapting to market conditions and rolling out new products to provide financing to our evolving borrower base. After the success of Loan100, our 100% loan-to-cost (LTC) product, we supplemented it with a new product called Loan90, which allows financing for up to 90% of the purchase price and points while funding 100% of the renovation budget. We also launched a Heavy Rehab product, available for situations when the budget exceeds the purchase price or as-is value of the property. In addition, we expanded our lending footprint to 31 states and DC and opened our New Construction, Loan90, and Loan100 products into all 32 lending markets, enabling us to serve more borrowers and open up more investment opportunities for our investors.
Finally, we launched two strategic initiatives to scale our lending platform while also providing more opportunities for retail investors to diversify into projects that provide social change. In January, we launched a new pilot program to spur the development of accessory dwelling units (ADUs) in the Atlanta area with the intention of increasing affordable housing through innovative use of existing space. In March, we launched a partnership with fellow Atlanta-based company PadSplit to fund affordable rental units that serve working-class renters. With these initiatives, we're excited to harness the power of our platform to help address the growing issue of affordable housing in markets across the country.
Platform Growth
Our increased volume on the origination front has helped drive significant growth and engagement in our retail investor base, which at year end stood at 154,000 registered investors – over 70,500 of whom came on board in 2021.
This influx of new investors has fueled demand for our investment products like never before, resulting in new investing records. In total, Groundfloor investors added $142.5 million in funds to our platform in 2021, a 175% increase compared to the previous year. We released 887 LROs for funding last year, resulting in a record $139.1 million in LRO sales and an 84% increase compared to 2020. In addition to LROs, our Groundfloor Notes sales continue to grow with $107 million in investment volume for the year, representing a 55% increase compared to 2020.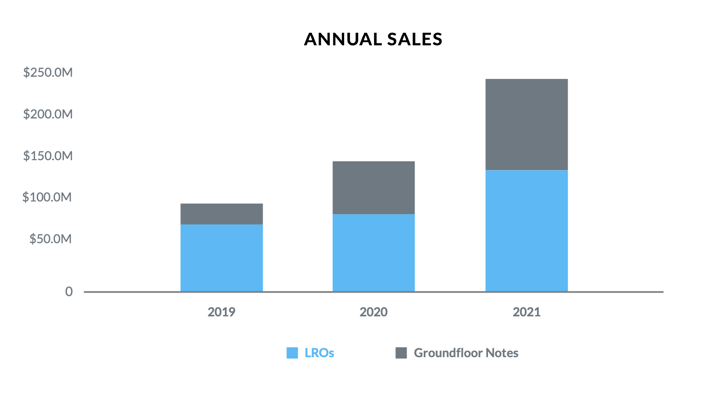 Finally, thanks to the enthusiasm and dedication of investors like you, our investor referral program brought on a record-setting 7,200+ investors in 2021. Thank you for helping us grow and spread the word about Groundfloor!
Performance
In 2021, we issued over $85.7 million in repayments on 513 properties and $81.0 million in Groundfloor Notes for a total of $166.7 million in repayments. Over the entirety of 2021, just 11 loans were repaid with a loss of principal. Those losses amounted to about $652,000, relative to $93.3 million in loan principal repaid, resulting in a loss ratio of about 0.7%. Repayments in 2021 yielded a weighted average net annualized rate of return of 9.45%. To date, Groundfloor has surpassed $598 million in all-time investments and $429.4 million in repayments, with a yield of 10% since our inception. For more information about the performance of our loans during 2021, please refer to our most recent portfolio analysis and to our most recent diversification analysis.
As a testament to our continued growth and innovation, Groundfloor made the Inc. 5000 List of America's fastest-growing private companies as well as the Deloitte Technology Fast 500 List, which recognizes the most innovative companies defining the cutting edge and transforming the technology industry, both for the second year in a row.
Brand and Product Development
2021 also saw Groundfloor continue to invest heavily in product and feature development, both to meet investor demand and bring new products to market. As we positioned Groundfloor for another year of rapid growth and evolution, in Q1 2021 we unveiled a rebrand of Groundfloor with a cleaner, more streamlined aesthetic and a new palette of brighter, bolder colors. This new brand is a testament to our fundamental mission of creating a simple yet powerful tool to help everyday investors build wealth.
In Q2 2021, we released Automatic Investing, a new and highly anticipated investor feature that makes it easier than ever for investors to diversify their portfolios over time. With Auto Investing, users are able to allocate specific dollar amounts that will automatically fund projects that match their predetermined level of risk; this ensures users' funds are continuously put to work, without the need to actively login and invest. We continue to iterate on this tool to streamline its look and feel and enhance its functionality.
Additionally, in response to user feedback we rolled out a new enhancement to our popular Investment Wizard tool that helps users easily diversify their portfolio by matching available loans with their personal investment criteria. Now investors can save their preferred investing filters as custom investment strategies.
Finally, in 2021 Groundfloor rolled out Stairs, our new mobile app that offers users the ability to build wealth through an investment in notes backed by real assets, with the simple user experience of a high yield savings account. After releasing the beta test for the general public in Q2 2021 and soliciting feedback from users in real time, we launched the full version in Q3 2021. This version incorporated a number of new features and updates, as well as improving reliability and overall user experience. Most notably, we gave users the ability to boost their interest rate from 4% to 6% by turning on Recurring Transfers (+1%) and Round Ups (+1%), which rounds purchases to the next full dollar and invests the difference. The boosted rate takes effect 90 days after the features have been turned on. Additionally, we added a Savings Goal feature that allows users to create a specific savings goal (e.g., a vacation, a new vehicle, or down payment) and track their progress towards that amount. As of year end, Stairs has welcomed 15,000+ users who have invested over $20 million.
Company and Culture
Groundfloor continued to grow in 2021 as we hired 37 additional employees to help build out our team (including several director-level positions) in sales, marketing, asset management, operations, and engineering. Company headcount is now at 69 and we continue to actively look for new talent to fill our numerous open positions. Employee happiness and retention remained a top priority in 2021, and independent surveying indicates that employee satisfaction is far above industry norms, with 96% of employees saying that Groundfloor is a great place to work.
Conclusion
Whether you're an investor, borrower, partner, or friend, this year wouldn't have been possible without you. Thank you for your continuing support of Groundfloor, and here's to even more success in 2022!