When Groundfloor was created in 2013, our founders envisioned a revolutionary new way to give everyone simple and direct access to private capital markets on equal terms. Since then, we have created and iterated on the Groundfloor platform to ensure it continues to deliver a seamless customer experience across our user base.
While Groundfloor's investment platform has always been built on a robust framework, the needs of our platform and user experience have evolved with the growth in volume and product sophistication that we have introduced over the last few quarters. In July, we rolled out new investing features and functionality to further align our user experience with the evolving sophistication of our product and needs of our users. Today, we are pleased to announce the next step in this ongoing evolution of our user experience: our new Investor Dashboard.
Formulated with input from our investors, this updated Investor Dashboard provides increased transparency to your account summary and investment performance, while incorporating the same streamlined look and feel, contextual messaging, and sorting functionality of our new investing experience.
More Transparency
We have made a number of adjustments to the Investor Dashboard to help our investors more easily discern the details of their accounts and its performance at a glance. In response to many investor requests, we have separated and clearly delineated Groundfloor LRO and Groundfloor Notes data for enhanced transparency and easier review of investment performance in the "Summary" and "Repayments" tabs.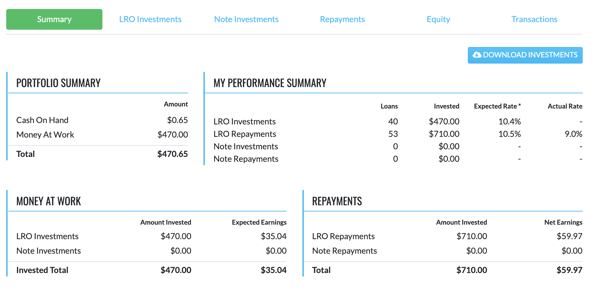 Summary Tab

Repayments Tab
Commitments and Open Investments have now been combined into one "LRO Investments" tab, while Groundfloor Notes investment data is summarized and detailed in its own tab. Note here as well that a link to our latest Diversification Analysis is readily available for you to compare your returns to those of other Groundfloor investors.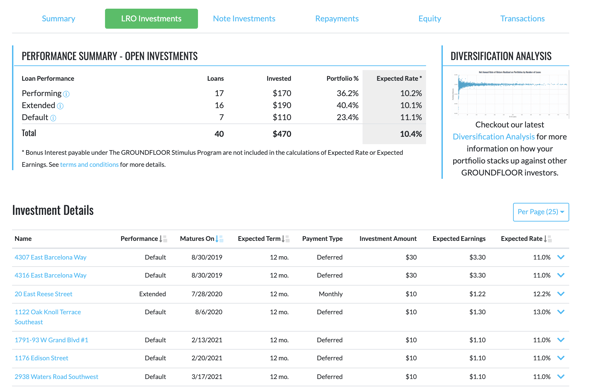 LRO Investments Tab
Finally, repaid and refunded investments have been combined into one "Repayments" tab, again broken out into LRO and Notes investments.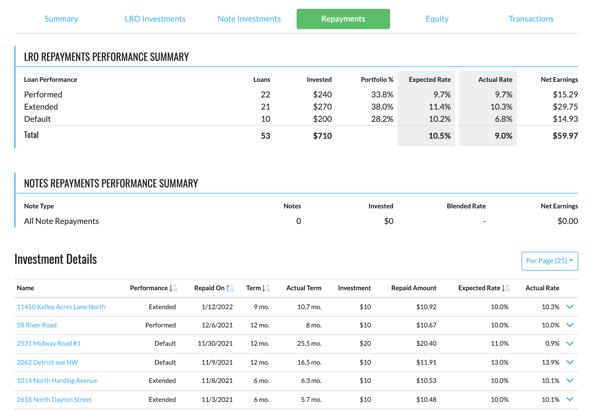 Repayments Tab


Enhanced Functionality & User Experience Updates
To make pages easier to navigate, we have added pagination to relevant tabs to give investors the option to view 25, 50, or 100 investments per page. Additionally, to address the diverse ways in which investors prefer to interact with our platform, we've updated and streamlined our mobile and tablet Dashboard experiences and aligned them with our new investing experience, rolled out earlier this year.
Pagination Functionality
These developments are just the latest user experience updates made in response to the changing needs of a Groundfloor user base that is almost one hundred thousand strong as well as to the evolution of our product and diversity of our investment offerings. As Groundfloor continues to evolve in sophistication, we will continue to improve upon our platform's powerful framework, ensuring it can scale across multiple devices and platforms and respond to the quickly-changing technology landscape.
Ready to get started investing in real estate? Browse through dozens of residential real estate projects happening around the country and create your own custom portfolio of private real estate investments starting with just $10 per project with Groundfloor. Join today and start building wealth for your future.