When GROUNDFLOOR was created in 2013, our founders envisioned a revolutionary new way to give everyone simple and direct access to private capital markets on equal terms. To deliver on this vision, we created a platform powered by three proprietary financial technology substacks that enable us to process and fund a high volume of loan applications, batch and qualify LROs with the U.S. Securities & Exchange Commission and efficiently produce the disclosures required to offer these LROs to the general public for funding, and securely support the millions of financial transactions our platform facilitates each year.
While GROUNDFLOOR's investment platform has always been built on a robust framework, the needs of our platform and user experience has evolved with the growth in volume and product sophistication that we have introduced over the last few quarters. Today, we are excited to announce the rollout of new investing features and functionality to further enhance user experience, supported by a best-in-class technology infrastructure that fuels our platform's unique and complex functionality.
As some readers may recall, in March we wrote a blog post detailing the changes and adjustments we'd made to our investor experience up until that time. Since then, our team has been iterating on those improvements and evolving our platform so that we can continue to deliver a secure, robust, technology-driven investing experience for everyday investors, $10 at a time.
Visual Design Enhancements
First, let's go through the changes we have made to the visual look and feel of our investments page. As is evident from the screenshots below, loan details such as loan grades are now easier to read, and columns have been reorganized and restructured to be cleaner and more uniform. Additionally, we have made the column headers "sticky" so they are always visible as you scroll down the page to give context to available investments.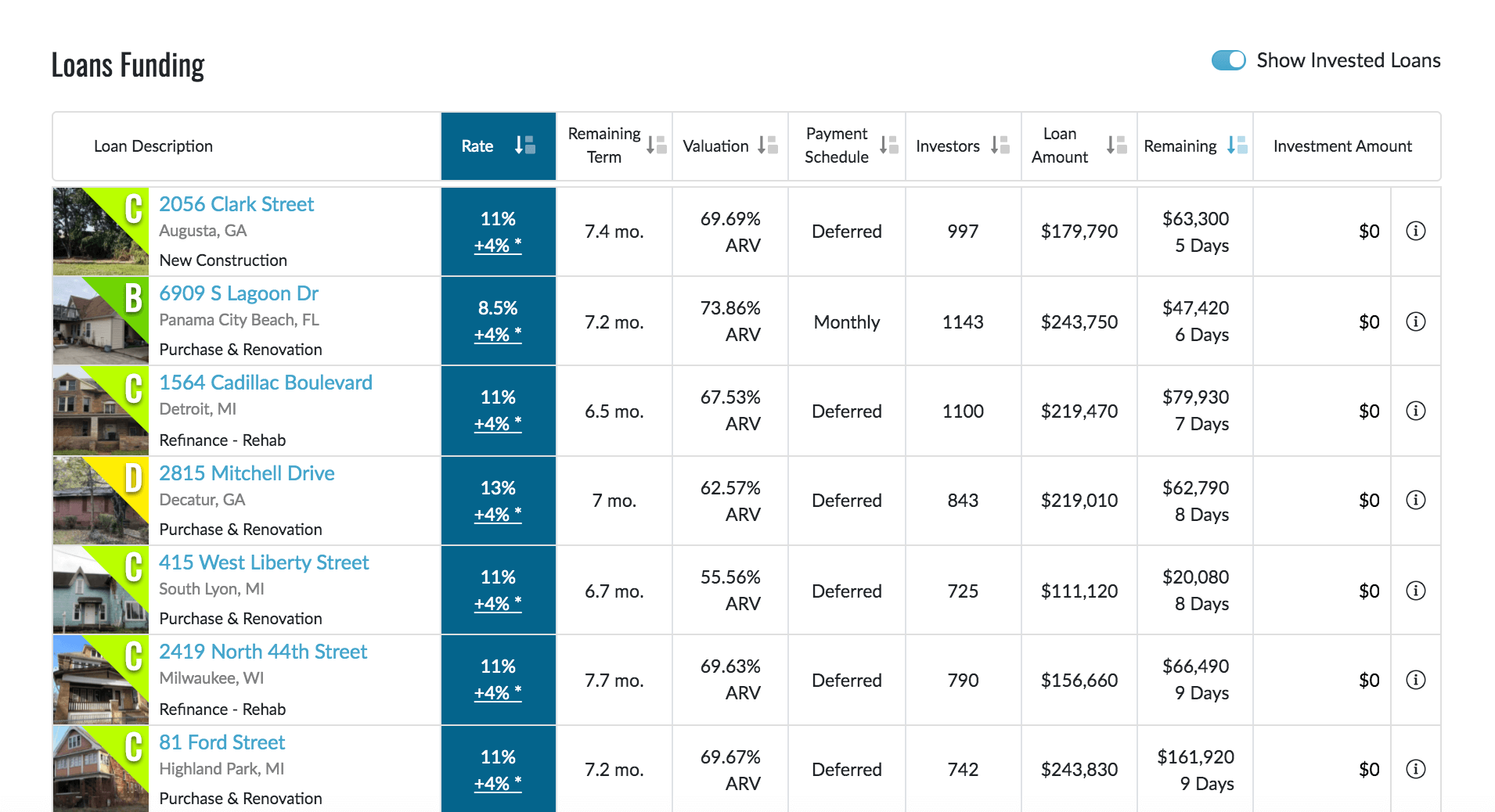 Investments Page
We have also made some changes to the format of how you see details of any previous investment activity in a given LRO. As before, you are able to click the arrow to the right of a given loan to view information about your previous investment(s), including the date the investment was made, the amount invested, projected earnings, and any project updates. Our new, updated investing experience improves this layout through color and other formatting changes to make the details easier to read.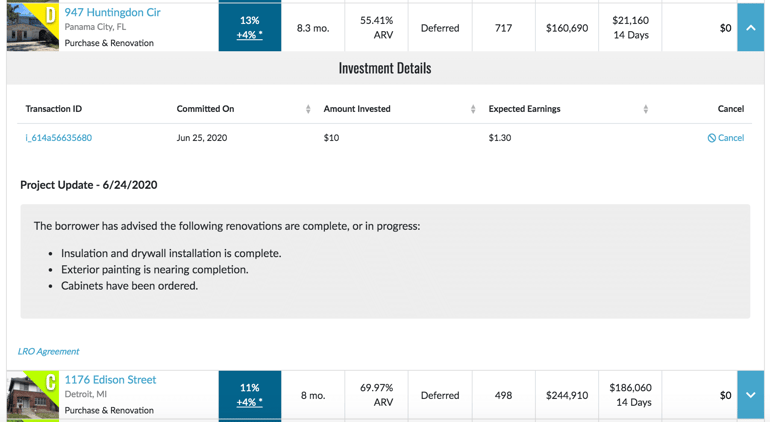 Previous Investment Activity Details in the New Investing Experience
Functionality Enhancements
To address the diverse ways in which investors prefer to visit and interact with our platform, we've updated our mobile and tablet investing experiences to make them more streamlined.
We have also added contextual error messaging to both calculate and inform users when investment limits have been exceeded in real-time. Finally, investors benefit from added sorting functionality which allows investors to filter out offerings that they have already invested in.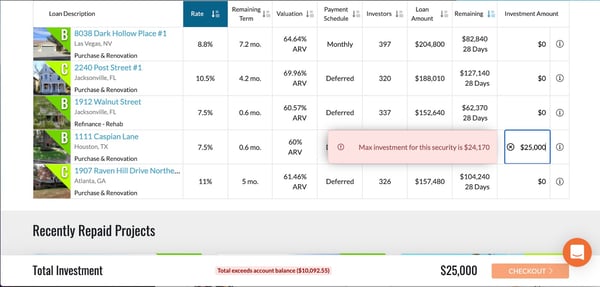 Real-Time Contextual Investment Error Messaging
Additionally, we have updated the investment process to make all investment options available in one investment action, similar to an ecommerce shopping cart. A sticky footer was added to display your total cart amount and for an easy one-click checkout.
Further functionality improvements can be seen on the investment confirmation page. Users are now able to modify investment amounts, add or remove investments, and see details of an investment directly from this page.

Investment Confirmation Page
Our latest developments continue to improve upon a powerful framework that can scale across multiple devices and platforms, respond to the quickly-changing technology landscape, and meet the needs of a GROUNDFLOOR user base that is tens of thousands strong and growing.
---
As always, we welcome your questions, comments, and feedback. You can leave them in the comments below, or contact us directly at support@groundfloor.us.