Get to know the people behind the platform! Meet Ayo Adeola, Groundfloor's Manager of Primary Servicing. We chatted with her to learn more about her experience, how she came to work for Groundfloor, and how she is staying sane during quarantine.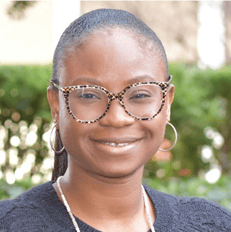 What do you do at Groundfloor?
I am the Manager of Primary Servicing within the Asset Management department. In a nutshell, the Primary servicing team is responsible for making sure that our customers have an exceptional experience throughout the duration of the loan. We oversee the day-to-day management of loans to ensure everything is staying on track; if a problem or issue arises that may endanger the successful completion of the project, the loan is shepherded to Special Servicing.
Going into more specific details, Primary Servicing handles the management and processing of draw requests, including communicating and coordinating with the independent inspectors who confirm the progress of the renovation. Our loans operate on a reimbursement basis, meaning that as borrowers complete different stages of work, they draw on the loan for reimbursement; as such, verifying that the work is complete and up to standards for each draw request is a vital part of ensuring that the project is proceeding appropriately. In addition, Primary Servicing is responsible for making sure that borrowers provide project updates to investors every 30 days so investors are kept abreast on the progress of the project.
Primary Servicing also handles all the requisite documentation for the servicing of real estate loans, including but not limited to the preparation of payoff letters, lien releases or satisfaction of mortgage documents, the retention of adequate insurance coverage, etc.
Where are you from?
I'm from Nigeria originally -- I grew up in a town called Abeokuta. After graduating from Bowen University in Nigeria with a Bachelor's degree in Economics in 2008, I came to live in Georgia.
What is your background and experience?
I have been involved in the real estate world for over 10 years! My first job in the real estate industry was as a brokerage analyst at a property management company in Georgia, where I served as the primary liaison with landlords, tenants, contractors, property managers, real estate agents, buyers and sellers, and other real estate professionals for day-to-day and strategic direction of all asset management matters. I was also responsible for monitoring progress of construction and maintenance projects, as well as providing financial analysis.
During my time at that company, I also obtained a Masters in Business Administration from the University of Georgia's Terry College of Business. After leaving the firm in 2016, I was hired at another real estate company as a transaction coordinator, where I essentially oversaw all the details involved with real estate transactions. I worked closely with agents, lenders, title companies, and closing attorneys in this role, which I really enjoyed.
How did you come to work for Groundfloor?
I was connected to Groundfloor by a friend -- the company had an open role that was a perfect fit for me!
I started at Groundfloor in January 2020 in the sales department, but after the onset of the COVID pandemic I moved over to Asset Management. I've been working in that department ever since, and this past February, I was promoted to Manager of Primary Servicing.
As Groundfloor continues to grow and originate more loans, how will your team continue to protect investors' interests?
Our philosophy in Asset Management is "no loan left behind." Our team carefully monitors each and every single one of our loans, and we are in close communication with our borrowers to ensure timely follow-up and to remind them of upcoming deadlines and other important deliverables.
We are always working to build on our team and our procedures to improve, streamline and automate the asset management process. We've recently contracted with a highly-regarded real estate development service to provide feasibility analyses of proposed projects and detailed independent inspections of project progress throughout the loan term. Additionally, we have incorporated some new project management software that enables us to automate creation of all the necessary documentation we need as we manage projects. Finally, each of our team members has a strong background in finance and real estate, with several of them having a real estate license as well; as such, they are deeply knowledgeable about the dynamics of managing real estate projects and draw upon this experience to help inform asset management decisions. You can rest assured that the projects you've invested in are in good hands with us!
What excites you most about Groundfloor? What is your favorite part about working here?
I love the fact that as an employee, you are given the opportunity to chart your own path. I have the opportunity to engage with knowledgeable professionals that further my knowledge and understanding of the real estate world. I feel that Groundfloor provides its employees with lots of opportunities to learn new things, whether it's within your own or another department. It feels like the sky's the limit here!
Additionally, I love how supportive the company is -- when COVID-19 first hit and things were really uncertain, Groundfloor communicated with us every step of the way and tried to provide us with all the support they could. As we've adjusted to pandemic life, the company has really stepped up and come up with creative ways to make us feel valued and supported. We have received care packages with healthy snacks, a stipend to help us set up our home offices, and surprise Amazon gift cards. This year has already started off on a great note with everyone getting new company gear featuring our new brand, and I think our management team has a lot more fun stuff up their sleeves. One of my favorite new initiatives is Wellness Wednesdays, which offers a different health-focused activity each week. It feels good to be a part of a company that really cares about its employees. Groundfloor keeps striving to make the workplace better and more conducive to everyone.
How have you been staying sane during quarantine? Any fun quarantine projects?
I honestly haven't taken on any specific quarantine projects, other than trying to stay active and fit through YouTube exercise videos! While I enjoy them, they are definitely no replacement for fitness classes and gyms. That's something I'm most looking forward to doing again once everyone gets vaccinated!
Thanks, Ayo - we're so happy you're a part of our team!