One of the highest honors any business can achieve is when its customers are eager to spread the word. As GROUNDFLOOR continues to grow and expand, we wanted to take a moment to recognize and thank everyone who has told their friends and loved ones about our revolutionary movement to level the playing field for alternative investments. We know that users like you are our most important advocates, so we've put together a special program to recognize that.
When you refer a friend to GROUNDFLOOR through our Investor Referral Program, both you and your friend will receive $10 to invest in GROUNDFLOOR loans, absolutely free.
GIVE $50, GET $50: Earn 5x the referral rewards through September 30, 2021 when you refer friends and family to GROUNDFLOOR!
How Does It Work?
Our Referral Program is easy: help us spread the word about GROUNDFLOOR and both you and whomever you refer will receive $10 on us. That's one potential investment, completely free!
As an investor, you have a unique referral link that you can share with your friends and loved ones. You can choose to email out the link or share it on your social media accounts. When your referral sets up their own Investor Account and transfers money in, you will each receive your $10 bonus. Best of all, there is no limit to the amount you can earn through this program -- the more people you refer, the more you can get!
Where Can I Find My Referral Link?
Ready to get started? Simply log into your GROUNDFLOOR Investor Account (if you don't have one yet, you can sign up for one here). In the top right corner, choose "Referral Program" from the dropdown menu to navigate to your personalized referral page.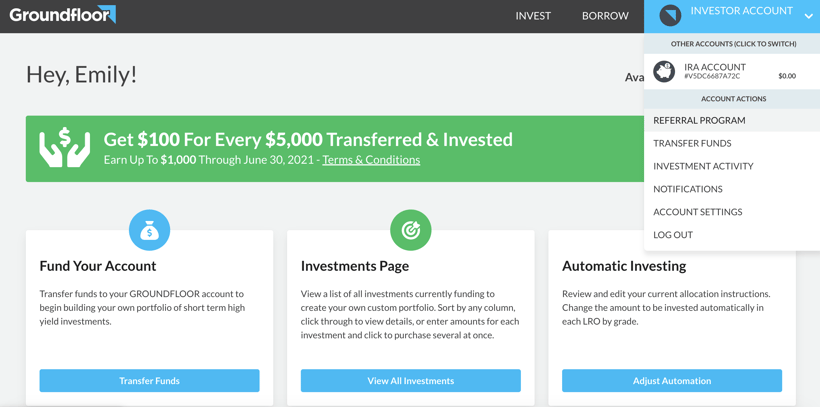 To access your referral page, log into your Investor Account and choose "Referral Program" from the dropdown menu.
Here, you'll find your unique referral link (plus email and social sharing buttons) as well as information about any referrals you've completed. You can check the status of referrals you've made and you can see how much money you've earned through the program.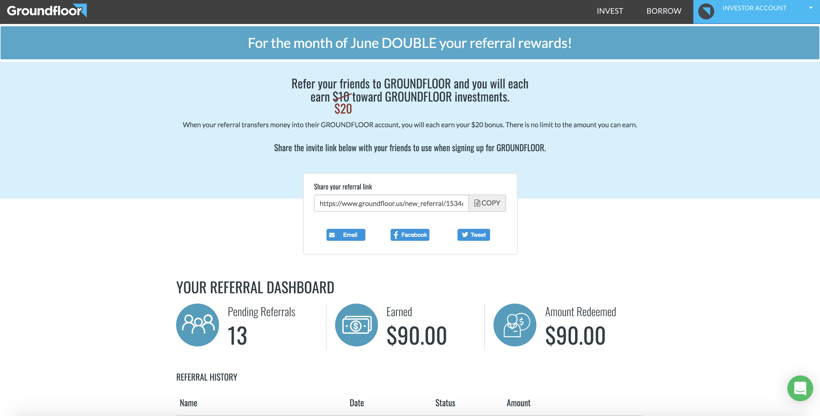 Use your unique referral link to help spread the word about GROUNDFLOOR and earn $10 for each referral.
Ready to begin referring your friends? Click on the button below to get started!