UPDATED: Saturday 12:19 PM ET
As Hurricane Irma barrels toward Florida in the aftermath of Hurricane Harvey, our hearts and prayers go out to all who are or could be affected. We are concerned first and foremost about the safety and well-being of our customers, friends and family in the Gulf area and Florida.
Equally, we know many in our community of investors and borrowers have questions about how GROUNDFLOOR manages the risk posed by natural disasters in general, and how specific collateral has been or is likely to be impacted.
GROUNDFLOOR currently has loans on 4 properties in the Houston area and 17 in Florida.
Hurricane Harvey
Since Hurricane Harvey has subsided, GROUNDFLOOR has gathered information on the four collateral properties that could have been affected by that storm. Three have been found to have suffered no damage. One (1016 Egret Lane, photo below) suffered wind damage.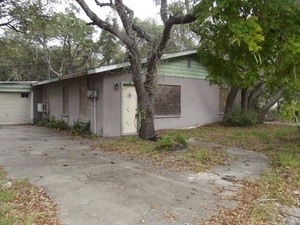 1016 Egret Lane, a loan in Texas that sustained some hurricane damage.
Fortunately, GROUNDFLOOR successfully force-placed insurance on the property in anticipation of the storm. A claim has already been filed under the policy.
Hurricane Irma
In anticipation of Hurricane Irma, this week GROUNDFLOOR reached out to all of our borrowers in the storm's path to request that they provide proof of insurance. Proof of insurance is required at the time of closing all of our loans. Our loan agreements also provide us with rights to confirm that insurance remains in place, and to force the placement of insurance on behalf of our borrowers in any circumstance in which such proof is not provided.
As of Friday afternoon we took action to force-place insurance on all properties for which we had not received proof by noon that day (Friday, September 8). Of 17 loans currently outstanding in Florida, we have found three properties to have no insurance, and two to be under-insured. All five loans currently outstanding in coastal Georgia and South Carolina have been verified as properly insured. We are investigating the circumstances around each property that lacks coverage. The insurance companies have refused to issue insurance on the five Florida properties, or any Florida property at this point.
At the closing of each loan we make, every policy is reviewed to ensure GROUNDFLOOR is properly named and has notice rights. We will investigate in due course to find whether the borrowers in question canceled, and to confirm that GROUNDFLOOR received a cancellation notice from the carrier. In all cases we will vigorously pursue available legal recourse if we find our rights as a lender were violated by the insurer or the insured.
As Hurricane Irma progresses, GROUNDFLOOR will continue to check on the status of the above properties and any other properties that may be affected. Gathering information, resolving insurance claims and recovering from the aftermath of a natural disaster can take time. We will of course exercise an appropriate level of leniency in working with our borrowers to effectuate a full recovery as quickly as possible, while doing our best to keep investors informed. Investors in these loans can check loan updates for loan-specific information as it becomes available.
Managing the financial side of these calamities is our responsibility and we are focused on executing it with diligence and professionalism. Equally, we are nonetheless concerned for the welfare of all in the storm's path and pray for the safety of all.