Get to know the people behind the platform! Meet Rich Pulido, a member of Groundfloor's executive committee. We chatted with him to learn more about his experience, how he came to work for Groundfloor, and how he is staying sane during quarantine.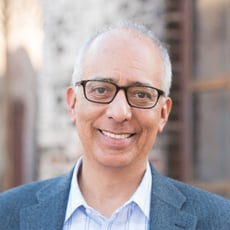 What do you do at Groundfloor?
I am a Senior Vice President and member of the executive committee. I work directly with the cofounders to develop strategic company initiatives -- such as partnerships, joint ventures, or other arrangements -- as well as new products to allow Groundfloor to expand into other areas within the broader real estate market. Our ultimate goal is to provide investors with more ways to invest by supporting a wider range of individuals and/or groups seeking funding for real estate projects.

Where are you from?
I was born and raised in Los Angeles.

What is your background and experience?
I have been working in the real estate industry for over three decades. 28 of those years were spent at Prudential, where I worked in the commercial real estate investment group and was based out of Chicago, Los Angeles, and finally Atlanta. During my tenure at Prudential, I acquired broad experience in equity and debt asset management, development, portfolio management, and capital market assignments.
My last assignment with Prudential was as head of the Secondary Markets group, which I started from scratch, eventually building up deal volume to around $1 billion in 2.5 years. Prior to this position, I led Prudential's Special Servicing Department for over a decade -- including during the Great Recession of 2008.

How did you come to work for Groundfloor?
I spent most of my career helping manage assets that have enabled institutional investors and high net worth individuals to make money through real estate, but over time I came to realize that the "little guy" was always left out. I was fascinated, therefore, when the 2012 JOBS Act -- which, among other things, expanded companies' ability to offer investment securities to non-accredited investors -- was enacted because it opened up possibilities for more people to access investment opportunities in general and real estate opportunities in particular. In fact, at the time, Prudential actually published a white paper on real estate crowdfunding, which I read with great interest. Ultimately, Prudential decided crowdfunding didn't fit their business model, but I remained very intrigued by it.
I retired from Prudential right around that same time and was offered a role at a real estate company in San Francisco whose business was based on the new JOBS Act regulations. I was living in Atlanta at the time, and was chatting with a neighbor about this new opportunity. It just so happened that my neighbor knew of a similar real estate investing platform recently established in Atlanta, and offered to pass along my information to the company's CEO. That company was Groundfloor!

How does the current COVID-19 crisis compare to the other downturns you've experienced in your career?
I was a part of the Prudential team during three major economic downturns, the largest of which was the Great Recession of 2008. During that time, I was at the head of the Special Servicing Department, which entailed managing the defaulted loans and foreclosed properties for a $55 billion portfolio of commercial mortgages. I remember thinking while we were going through the crisis how intense and difficult it was, and how I couldn't imagine ever experiencing something like that again in my career. Clearly, that thought didn't age well!
For all its hardships, going through that experience has proven invaluable during this current COVID-19-related downturn. Most notably, I've made it a point to bring over the institutional-grade asset management processes I employed at Prudential to the Groundfloor team. Just because you're a small company doesn't mean you can't manage your loan portfolio in the same sophisticated way that larger institutions do! While the assets Groundfloor manages are of course much smaller than those I dealt with at Prudential, it's all still real estate, so the process of managing them remains generally the same.
In my view, Groundfloor will persevere through this crisis, largely because I believe very strongly in Groundfloor's primary thesis that the United States has been and remains fundamentally under-housed, and thus demand for residential real estate will stay strong. In fact, I see Groundfloor as being uniquely positioned to participate in and contribute to whatever the emerging housing trends are as a result of this pandemic. It may be that people become more interested in renovating their homes and building on additions or guesthouses to be closer to family. Alternatively, people may begin eschewing the denser apartment complexes and urban settings in favor of suburban environments and homes. In either case, Groundfloor stands ready to finance home renovations and new construction to make both scenarios possible.

What excites you most about Groundfloor? What is your favorite part about working here?
What I think is most exciting about being a part of Groundfloor is how we are able to conceive of new products for our customers, then get the entire company engaged to develop those products to deliver even more value to our borrowers and investors. The creativity, agility, and technical capabilities of our team are really remarkable. As Groundfloor has grown, we've come up with some really interesting products to better meet the needs of our customer base.
A great example of this is our Groundfloor Notes program. Originally, Notes were conceived simply as a supplement to our regular loan offering; with Notes' shorter duration, we thought there would be good demand and our customers would appreciate the opportunity to further diversify their investments. Fast forward to now, and our Notes program has been so successful that it has now completely replaced our line of credit!

How have you been staying sane during quarantine? Any fun quarantine projects?
I've been fortunate to be able to escape every now and again to the mountains and the beach with my family -- all within driving distance, of course!
I've also been having a good time challenging myself with the Marine Corps physical fitness test. While I don't have a target accomplishment other than "can I do more than what I did before," I have seen some really good improvement in the number of pull-ups I can now complete.
Thanks, Rich - we appreciate all you do!