Get to know the people behind the platform! Meet Marisa Levy, GROUNDFLOOR's Customer Success Specialist. We chatted with her to learn how she ended up at GROUNDFLOOR and what her secret talents (yes, there are multiple) are.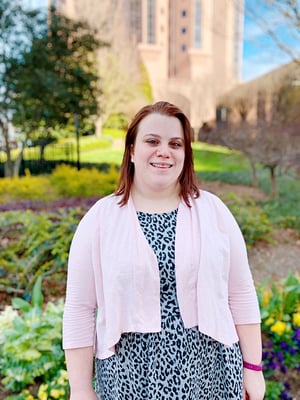 Q: What do you do at GROUNDFLOOR
I am a Customer Success Specialist. I help our investors with any questions they might have about our company. I also work closely with the Marketing team to stay up-to-date on current promotions, events, etc.
Q: Where are you from?
I'm from Long Island, NY - where it's really cold and snows all the time. Oh! And there's bagels and pizza there too!
Q: How did you end up at GROUNDFLOOR?
My path to get to GROUNDFLOOR has been really interesting. As I mentioned before, I am from New York originally. I ended up moving down to Atlanta to pursue a Master's Degree in Neuroscience at Georgia State. Upon graduating, I spent a few years teaching middle school science. These years were incredibly rewarding and challenging, and ultimately helped me realize that I really wanted to be in the tech space, but not necessarily in the classroom.
So, I transitioned into teaching teachers how to incorporate technology into their classrooms and curriculums, but I began itching for something new. I was especially interested in technology-focused startups because I felt it would be a fun challenge.
I started looking for startups in the Atlanta area, and I found GROUNDFLOOR. I was attracted and excited by GROUNDFLOOR's mission of leveling the playing field of real estate investing, and then when I came in for my interview, it just seemed like a really great place with really great people to work with and for.
Q: What is your favorite part about your job?
When investors are as excited as I am! I love getting calls from investors and hearing that they are as passionate about the work we are doing and the opportunities available. I tend to get loud and excited on the phone to match.
Q: What is your favorite midday pick-me-up?
I like to listen to podcasts during my lunch break -- it's nice to turn my brain off and absorb information sometimes rather than having to be the distributor of information. I especially like "Sawbones," a medical history podcast, and "My Brother, My Brother, and Me," a comedic advice podcast.
I also need a Diet Coke in my life from time to time to make it through.
Q: What is your hidden talent?
I have three! I'm a really good cook; I write sketch comedy; and I seem to have a knack of quickly finding the women's restroom in any building I go in, even if I've never been there.
Q: What is your favorite item on your desk?
That's hard because I have a lot on my desk! But I'll be corny and say my favorite thing is the picture of my boyfriend and me from this past Thanksgiving.
Thanks so much, Marisa!