Get to know the people behind the platform! Meet Jinny Kwon, Operations Analyst at GROUNDFLOOR. We sat down with her to learn how she found GROUNDFLOOR, what her favorite part of her job is, and the hobby she's currently cultivating (pun intended!).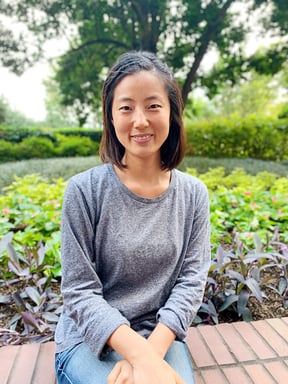 Q: What do you do at GROUNDFLOOR?
Up until last month, I was a Project Manager, but in the past few weeks I've been transitioning to my new role of Operations Analyst. In a few words, my work now centers around trying to bridge the gap between the operations team and the systems and tools we use at GROUNDFLOOR. I work primarily with the Lending Operations team to identify gaps in our existing structures and processes and to address them in more innovative, effective ways.
Q: Where are you from?
I'm originally from South Korea, then I moved to NYC when I was in the eighth grade.
I ended up in Georgia after meeting and marrying my husband. He happened to be born and raised in Stone Mountain, so when we were thinking about next steps, it just made sense to come here. It was so important during that time to be near family for support, and now we love living in Atlanta!
Q: How did you end up at GROUNDFLOOR?
I initially was working in the ecommerce space as a Project Manager. I'd decided that the time had come to move onto something new, so I joined a Slack community in Atlanta called Tech404 to help my search. One of the users in that forum posted about a job opening in their up-and-coming real estate investing startup, so I reached out to him to learn more. That person was Justin [Burris, Director of Engineering] and that company was GROUNDFLOOR. And the rest is history!
Q: What is your favorite part about your job?
I love that my role allows me the flexibility to work on what I want to work on, to prioritize the things I feel are most pressing. Since my role is in large part responsible for how our processes work, it's a great honor to be trusted to decide what is most important for the company.
Additionally, I really love getting to know the real estate industry - my background is in fashion, but I like real estate more!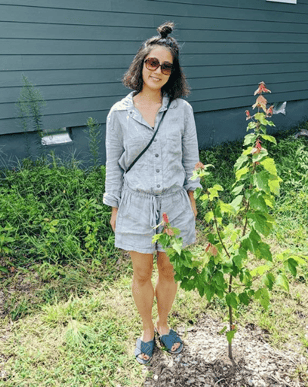 Q: What is your favorite midday pick-me-up?
Coffee! And I like to take breaks to go bug my teammates to chat with me.
Q: What is your hidden talent?
I love gardening! Right now I'm super into composting.
Q: What is your favorite item on your desk?
It sounds so boring, but it's my reusable flatware I bring from home. Caring for the environment is very important to me, so I like that I don't have to use any disposable ones while I'm at work!
Thanks so much, Jinny!