The Groundfloor Asset Management Monthly Update provides a view into our overall loan portfolio. On a monthly basis, we review the prior month's aggregate performance and the key statistics you need to understand how Groundfloor manages our existing portfolio. We highlight monthly repayments and specific projects to give you deeper insights into the ongoings of our Asset Management team.
Monthly Highlights
Groundfloor's overall portfolio had 1,246 LROs at the end of March. The number of loans in default increased to 133 in March, up from 125 in February. There was also a decrease of one loan in REO during this time period.
The Groundfloor portfolio continues to perform for investors. Real Estate Owned (REO) LRO's remain low compared to the overall portfolio. Nine loans repaid from Default in March.
Please note, "Default" does not necessarily mean a "loss" in our overall portfolio. See our "Rate of Return" section below for additional clarity on Defaults.
For an expanded commentary on our Asset Management approach, we have published a companion piece to our monthly reports, found here.
March Principal and Interest Repaid
In March, Groundfloor repaid a total of $13,550,900.15 in principal and $858,525.75 in interest to investors. Borrowers had requested payoff letters, but many closings were delayed for a variety of reasons such as seller delays, title delays and/or appraisals not coming back in time - so some of those rolled over into April. The key is the interest repaid on this activity was the primary focus.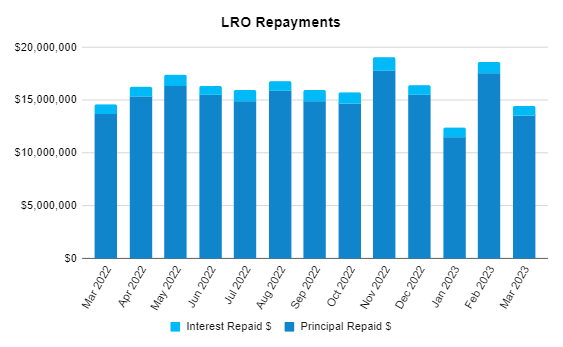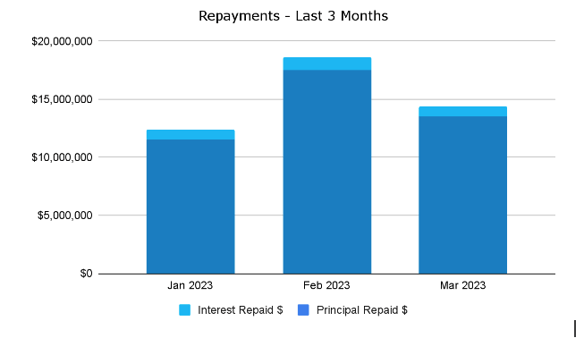 With a strong February, first quarter results for principal and interest repayments remained positive.
Rate of Return
In March, portfolio performance met predicted returns. A total of six loans repaid from default. However, two experienced a principal loss, which impacted overall returns for the month as reflected below.

*Beginning March 2023, Groundfloor will begin to show "average weighted returns" in addition to our historically reported "average actual returns."
Performance Metrics
The table below summarizes the performance of our portfolio in March 2023 and shows that the first quarter of the year ended on a positive note. Q1 of 2023 final numbers are also included.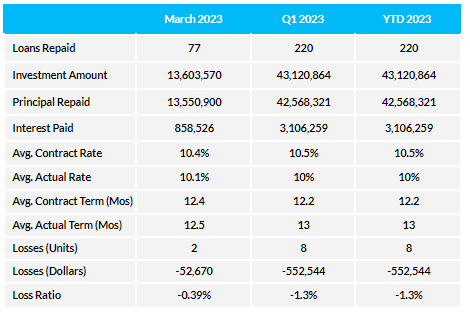 *It's important to note that the above table shows the performance of loans that were repaid during the time periods noted, not the performance of loans originated during these timeframes.
To access and download a detailed view of March performance metrics, click here.
March Asset Management Highlights
Our asset management and default servicing teams are dedicated to ensuring our investors maximum returns on their returns on their investments. Here are some of the highlights from this month's activities that demonstrate our commitment to achieving this goal:
529 Coventry

This LRO matured in May of 2022. Asset Management's attempts to encourage the borrower to repay the loan went unresolved. After numerous missed deadlines by the borrower to repay the loan, the file was referred to Groundfloor's Default Servicing team in February of 2023. Facing foreclosure, the borrower was able to secure refinancing and repay the loan in March 2023 with full interest plus penalty interest repaid to investors.
1598 Athens

This LRO matured in May of 2022. After numerous construction delays and missed deadlines, the borrower was able to secure a buyer and repay the loan in March 2023. The file was managed in extension by the Groundfloor asset management team and repaid with full interest.
March Project Spotlights
This month we feature three projects from Virginia, Georgia and Florida - just a few of the states we offer loans in - as part of this month's Project Spotlights.
407 Orleans Circle Southwest, Vienna, VA
(Refinance - Rehab)
Repaid LRO
Repaid Date: March 28, 2023
Loan Amount: $1,123,320
Interest Rate: 8.5%
Total # of Investors: 0 - repaid presale
180 Palms Ln SW, Mableton, GA 30126
(Purchase & Renovation)
Repaid LRO
Repaid Date: March 6, 2023
LRO Amount: $196,040
Interest Rate: 10%
Total # of Investors: 796
2601 N 8th Ave, Pensacola, FL 32503
(Purchase)
Repaid LRO
Repaid Date: March 9, 2023
LRO Amount: $234,020
Interest Rate: 15%
Total # of Investors: 793
Groundfloor Borrower Spotlight
Seon John and Shawna Bennett are a real estate investor couple based in Atlanta who have completed over 35 flips together in 5+ years, finding love in the process.
They have several loans with Groundfloor and they've been a joy to work with. The couple refers to their company as "Flippin Love", as they first met through flipping homes. They have also had the opportunity to renovate a kitchen with Vox Media and KitchenAid for an episode of Design Minded.
They remain dedicated to pushing the limits on every property they renovate or build and searching for opportunities to enhance the value of a property.
Read more about this dynamic duo and see some of their past Groundfloor projects

here.
Asset Management Supplement
Take a more in-depth look into our Asset Management approach by checking out our companion piece to our monthly reports, accessible here.
Review your Groundfloor Investor Account
To review your current portfolio's performance, and discover and invest in new LRO's, please visit your Investor Account here.
Introducing Groundfloor Notes
Groundfloor Notes allow both accredited and non-accredited investors to start "savesting" in real estate with an investment experience that combines the benefits of savings and investing, featuring different rates, term lengths, and minimums released each month. To learn more about Groundfloor Notes, you can find more information here.
---
Understanding our Loan Status Definitions:
Repaid Loans - this is when the borrower has paid back the current loan on their property and the interest is distributed back to the investors of the LRO associated with that particular property.
Current Loans - these are performing loans with active renovation projects which have corresponding LROs that have been sold on our investment platform.
Extended Loans - these are loans where the project completion and/or loan repayment did not happen before the intended maturity date and the borrower has signed an extension agreement to pay penalty interest which will be passed through to LRO investors when it repays.
Defaulted Loans - these are loans where Groundfloor's Default Servicing team has engaged with counsel to file legal foreclosure proceedings to take possession of the property as collateral for the defaulted loan.
REO (Real Estate Owned) - this is when Groundfloor takes ownership of the property through the foreclosure process and works to sell the asset in order to recoup as much principal and interest for our investors as possible.
This article has been updated since it's original publication.