Beginning with this April edition of our monthly Asset Management series, we are going to focus specifically on our loan portfolio, the key performance metrics and how our Asset Management team manages these loans.
The data presented herein should be familiar, but we have also evolved specific data points to give you the information you need in an effort to better understand the monthly performance of our loan portfolio.
Groundfloor will continue to report on our LROs (Limited Recourse Obligations), with this information migrating to our Portfolio Analysis blogs.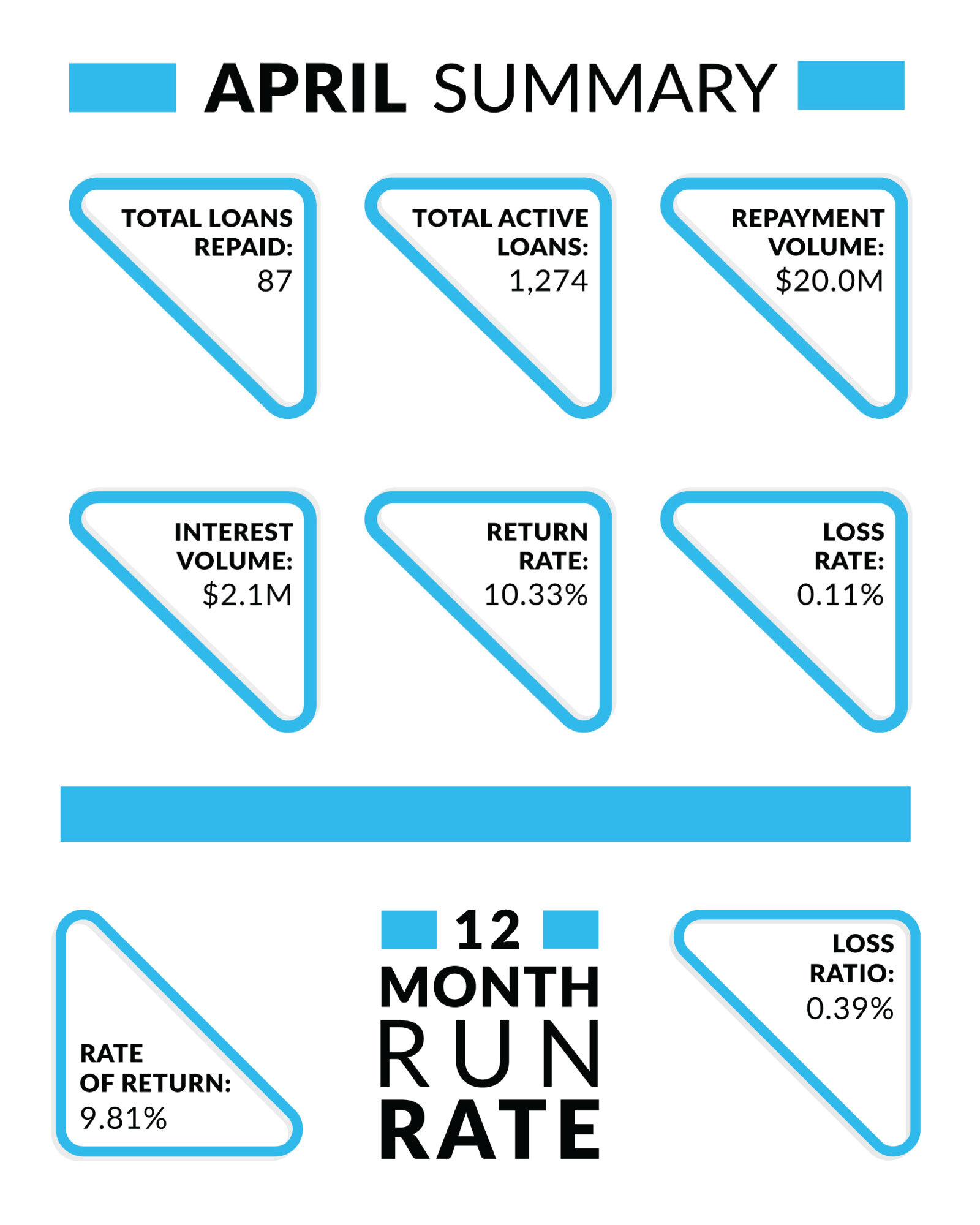 By the Numbers
In this section, we will provide commentary to key performance metrics pertaining to April's loan portfolio performance, including loan payoffs, repayment/interest volume, rate of return and loss ratios. Furthermore, we have now included expanded views into our loan performance states, as well as a detailed view of this data from the beginning of the year.
Loan Payoffs
During the month of April, Groundfloor saw 87 loans repaid, signifying a rise from last month's total of 81 and just 3 shy of our peak of 90 in February. This brings this year's total to 325 repaid loans.
The repayment of loans has remained stable despite continued economic headwinds. It is noteworthy that the last two months have shown particularly strong performance rates, which is promising as we continue to move further into the buying season.
Below is a monthly breakdown of the loans repaid and repayment volume to date in 2023: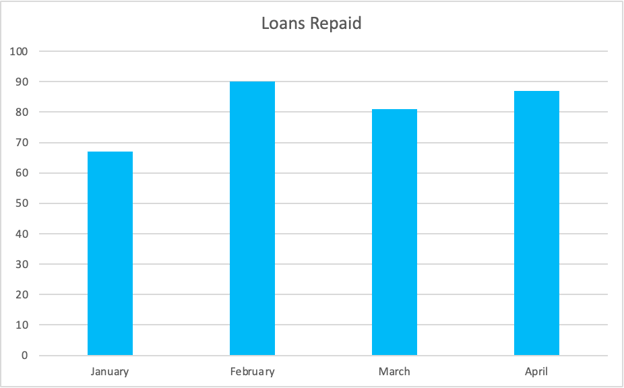 Repayment & Interest Volume
The repayment and volume interest for April indicated an upturn from March and January, but just behind year to date peaks seen in February. April saw a total repayment volume of $20.0 million and an interest volume of $2.1 million. While it is worth noting that Groundfloor achieved record-breaking principal and interest repayments to investors in February of this year, April's performance shows a nice recovery over March.

Rate of Return
April saw a rate of return of 10.72%, setting a high for the year thus far. This rate is a great return to form due to the performance of the Asset Management team. When viewing the average over the past several months, it's easy to see why Groundfloor has a rolling twelve month rate of return at 9.81% as highlighted above.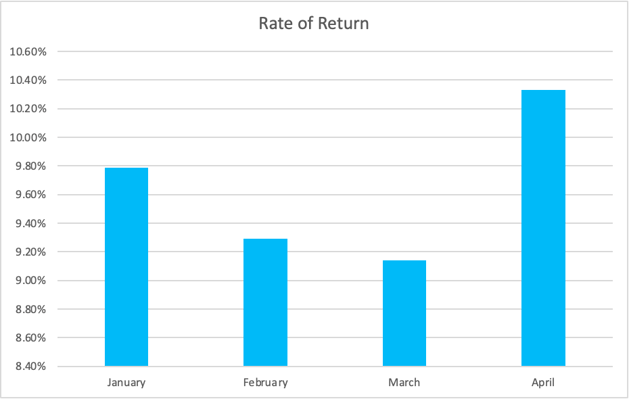 Loss Ratio
In April, Groundfloor had only one loss, a considerable improvement over prior months. Year-to-date, we only have nine losses, which gives us an average loss ratio of 0.99%. April's loss ratio was only 0.11%.
This loss rate is the lowest of the year so far. Similar to the commentary regarding our rate of return, when assessing the past several months worth of data, Groundfloor continues to operate with a very low overall loss rate of just 0.39%, not a trifle statistic considering market conditions.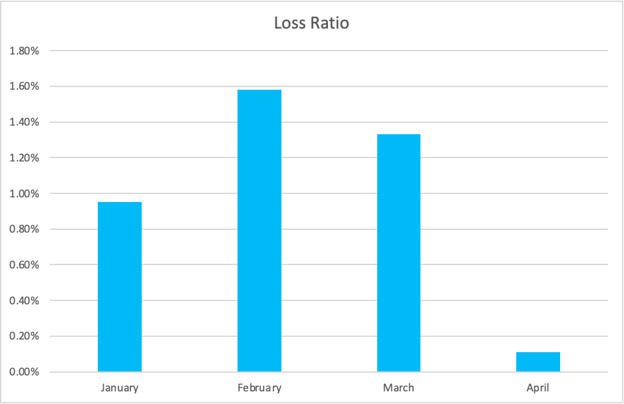 Further Detail
Across the entirety of our loan portfolio, Groundfloor tracks four loan portfolio states: current, extended, default and losses. The following chart demonstrates all four loan portfolio states month over month, for 2023.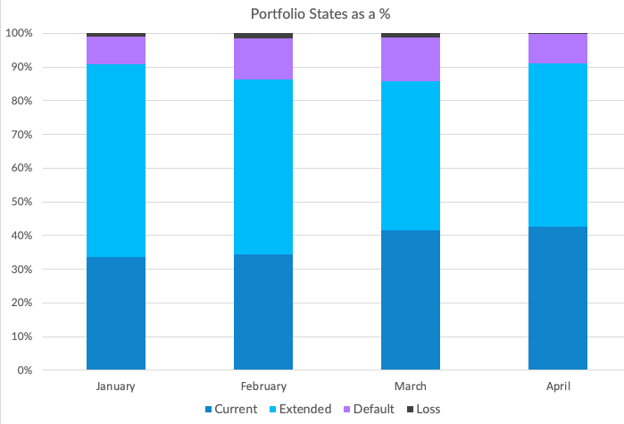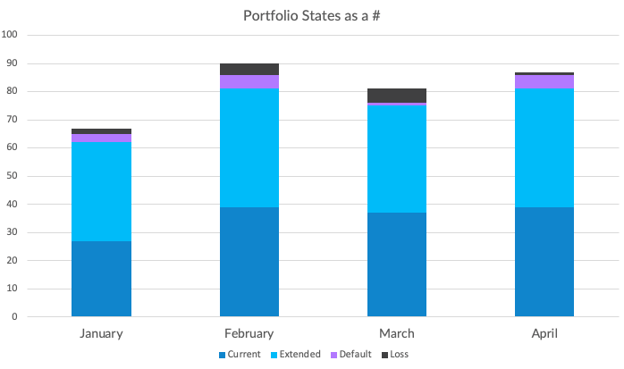 Finally, we present a full view into our overall loan portfolio, broken out into expanded detail for your review.

What We're Seeing
The Groundfloor Asset Management team is working with borrowers to keep their projects moving in the right direction. The below highlights some team adjustments as well as some observations we are seeing in the marketplace:
Groundfloor has added additional asset management resources to our team.This allows Groundfloor to improve services and communications with borrowers and address issues as they arise earlier in the loan lifecycle.

To address permit delay issues on new construction loans, Groundfloor now requires permits in hand prior to closing new construction loans.

We continue to see delays due to macroeconomic factors impacting builders and borrowers including and not limited to supply chain issues and labor shortages. Our team is working hard to provide extensions to clients affected by these delays when appropriate. It is important to note that an "extended" portfolio state is not necessarily a negative or warning flag per that loan. More often than not, Groundfloor actively works with our Borrowers involving a multitude of logical reasonings as to why any given loan may go beyond the contracted timelines and enter an "extended" state.

We are making steady progress towards resolving older loans in the portfolio, which includes listing some real estate owned properties (REOs).

There has been a noticeable increase in draw requests on escrow balances, indicating an escalation of progress in the field.
Highlights from the Month
Here are some of the notable achievements from last month:
7372 Santiago - This loan matured in August of 2021 Asset management had been working with the borrower to complete construction and address outstanding permit related matters for over a year. The borrower was unable to overcome those obstacles and repay the loan. After multiple purchase and sale agreements fell through, Groundfloor foreclosed on the property and was able to secure a sales price that recovered a principal plus interest recovery for investors.
8617 Bowden Street - This loan matured in August of 2022. An extension was granted by Asset management and communication between the borrower and Groundfloor was ongoing. Borrower was working on an external refinance which faced numerous challenges and delays.The borrower was informed that the file was to be referred to Groundfloor's Default Servicing team in April if not repaid. The borrower was able to complete the refinance and repay the loan with contract plus default interest to investors.
2300 W Knoxville - This loan matured in August of 2022. Asset Management continued to work with the borrower for a repayment, however was unable to secure a payoff to satisfy the loan. The original scope of work was not sufficient and the borrower was unable to complete all repairs required to ensure this property was competitive in the market. Groundfloor foreclosed and completed initial preservation and securing services on the home. The property was listed on the market for over 60 days with several price reductions required to attract a buyer. An offer was made and negotiations produced a sales price of $210,000. This led to a principal recovery of 88% for investors.

April Project Spotlights
Below we highlight some of the properties that were repaid last month and showcase the before-and-after outcomes.
2217 Midvale Terrace, Henderson, NV
(Refinance - Cash Out)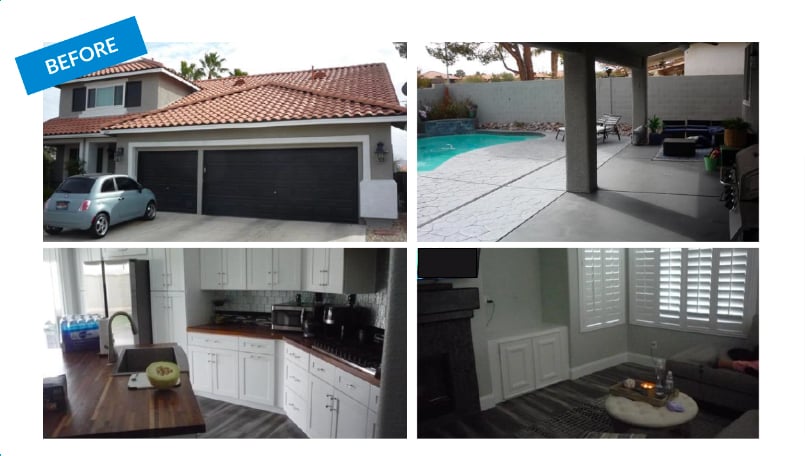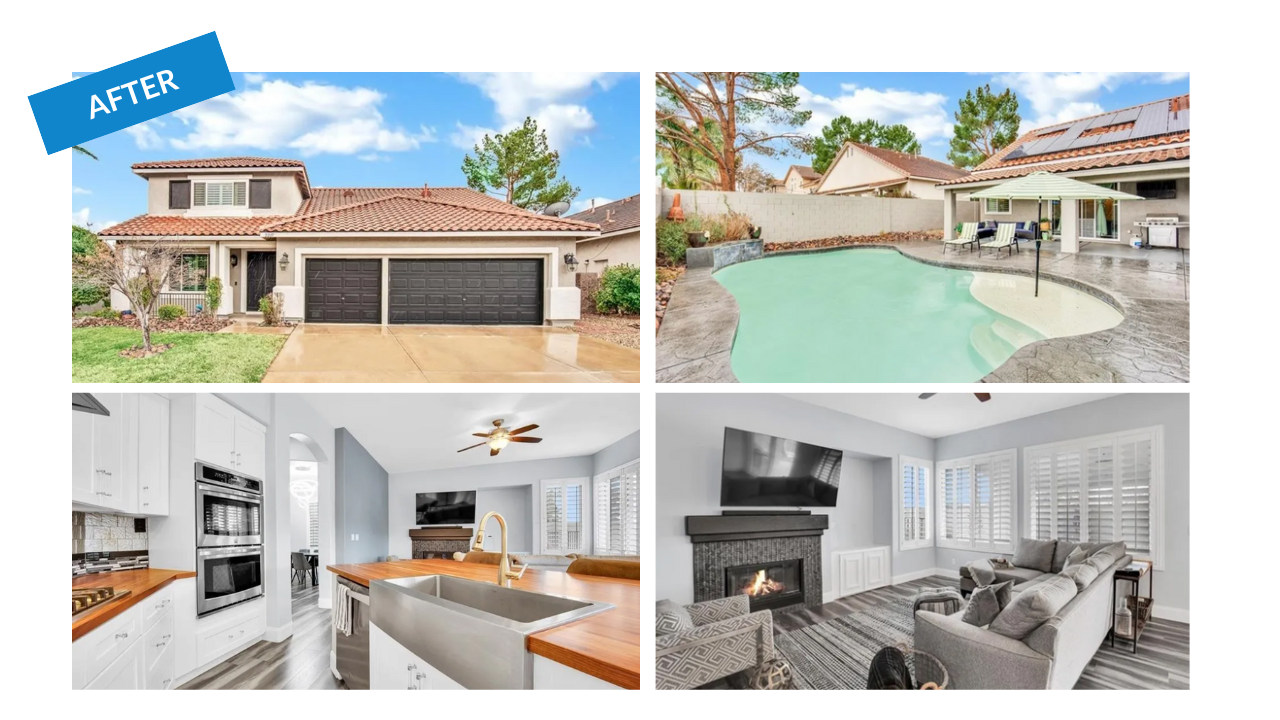 Property Purchased For: $590,000
Total Loan Amount: $472,360
Term: 12 months
Repaid Date: April 28, 2023
Sold for: $645,000

818 Flat Shoals Way SE, Atlanta, GA
(Purchase & Renovation)

Property Purchased For: $270,000
Total Loan Amount: $489,950
Term: 12 months
Repaid Date: April 6 2023
Sold for: $645,000
3314 Anson Street, Charlotte, NC
(New Construction)

Property Purchased For: $450,000
Total Loan Amount: $727,260
Term: 12 months
Repaid Date: April 28, 2023
Sold for: $830,000
Review your Groundfloor Investor Account
To review your current portfolio's performance, and discover and invest in new LRO's, please visit your Investor Account here.
Further Reading: