You asked, and we heard you!
Today, we are excited to announce the launch of the #1 most requested feature from our customers: Self-Directed IRAs. This launch is the result of four months of hard work, and we are thrilled to now allow investors across the country the chance to benefit from the high returns that Groundfloor is generating while saving for retirement with the tax benefits of an IRA. When you open a Groundfloor IRA, you get the ability to diversify your retirement savings with real estate investments and allow these investments to grow tax-deferred or tax-free to maximize your contribution amounts.
Groundfloor offers investors a number of different IRA options, including:
Traditional IRA

- A tax-deferred savings program that allows individuals to invest earned income in a retirement savings account. Traditional IRAs are the most common accounts individuals use to save for their retirement.

ROTH IRA

- ROTH IRA contributions are not tax deductible, however once you are 59 1/2 and the account has been established for a minimum of 5 years, funds can be withdrawn tax-free at any time. To contribute to a ROTH IRA in 2019, you must have a modified adjusted gross income below $137,000 (single) or $203,000 (married filing jointly).

SEP IRA

- A Simplified Employee Pension (SEP) IRA allows self-employed individuals or small business owners employers with a way to make contributions to their employees' retirement.

Simple IRA

- A Savings Incentive Match Plan for Employees (SIMPLE) is a tax-favored retirement plan that employers can set up for their employees.

Rollover IRA

- A Rollover IRA is a traditional IRA that is typically used by those who want to move retirement savings from an employer-issued 401(k) to another retirement plan.
Getting Started With IRAs
Signing up for an IRA on our platform is quick and easy. Click here to get started, or log in to your Investor Account and choose "Set Up An IRA Account" from the dropdown menu in the top right corner.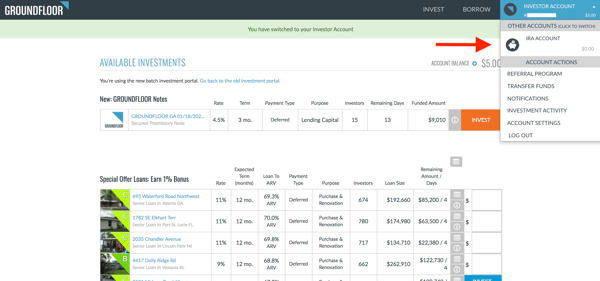 Now that you have an IRA set up, it's time to contribute! Select "Contribute & Transfer" after logging into your new Groundfloor IRA, and our system will guide you through the process of transferring funds from an existing IRA custodian, directly contributing funds via check or rolling over funds from an existing retirement plan such as an employer-issued 401(k).
And now is the perfect time to set up an IRA through Groundfloor! In addition to taking advantage of the tax benefits of investing through an IRA, we are offering two special promotions:
To kick off our launch, GROUNDFLOOR will provide $200 in bonuses for every $20,000 in contributions made through December 31, 2019 (up to $10,000), and we are waiving all investor fees associated with IRAs through the end of 2020.
Don't miss out on this limited-time offer to start contributing to your future financial foundation with high-yield real estate investments.
---
Groundfloor was founded with the mission of opening up real estate investing opportunities to all so everyone has the chance to begin building wealth through real estate. Our new IRA products demonstrate just one more way we're helping everyday investors take control of their financial futures. For more information on our new IRA products, please click here. Alternatively, if you have questions, please feel free to reach out to our Customer Care Team at support@groundfloor.us.