The past few months have been busy for the team here at Groundfloor. We've been focused on improving the investor experience. And we are pleased to announce the launch of the #1 most-requested product feature from Groundfloor investors - IRA investing.
--- IRAs ---
We are coming out of our alpha testing phase and are now rolling out the self-directed retirement accounts more broadly. The regulation of IRAs and 401k accounts can be complex, so it's taken us some time to work out compliance kinks with our custodial account provider, IRA Services Trust. Based on our first round of learning with a handful of early adopters, our software team has now soft-launched a new, integrated IRA account setup wizard. To access it, click the new person icon that appears in the top right of your screen once you log in (or click the image below).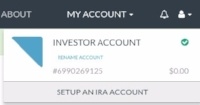 So far, we think it's working pretty well for most people and for most account setup scenarios. Let us know what you think. You can click here for IRA FAQs, and we have specialized customer support to help and want to make sure all your questions are answered for what can be a complex process--but also a rewarding tax-advantaged one.
IRA Special Offer: As with most IRAs, there will be fees for IRA account maintenance. We will waive these fees for life for our initial IRA investors who transfer and invest more than $10,000 in their IRA accounts by July 31, 2017.
--- Other Developments ---
More Loans. Lots More.
After a temporary slowdown, our legal team finally caught up with the lending team. We're now offering more loans than ever. In May, for example, we were able to offer as many loans in one month (20) as we had year to date. That's great news for investors. An internal analysis we recently produced shows how much increasing the number of loans in your portfolio can substantially reduce variations in expected returns and timely repayments. We'll have that data ready to share soon.
Improved Reporting
Based on investor feedback, we're improving our bi-weekly loan updates and monthly statements. Loan updates now include a reminder of when you invested in each loan and when the loan is due for repayment, along with the most recent information on project progress. While you may notice we've also made a few tweaks to our monthly statements, a significant overhaul and redesign is underway. When it's done, that will provide even more information about your Groundfloor portfolio and how it is performing.

We hope you will take advantage of these improvements and those to come. Our team thrives on customer feedback--positive and constructive alike. Feel free to comment here or email us at founders@groundfloor.us and we'll be sure to respond and pass it along.
All the best,
Brian & Nick
Groundfloor Co-Founders