Hello and welcome to Groundfloor! We are happy you have decided to join us as we continue to open up access to private real estate debt investments for everyone. Whether you are a seasoned pro or a brand new investor, we thought it would be helpful to provide an overview of our platform, how it works, and how to get started investing.
How Groundfloor Works: A Brief Overview
Groundfloor is a first-of-its-kind investment platform for everyday investors that gives both accredited and non-accredited investors direct access to short-term, high yield returns backed by real estate. Our platform empowers investors like you to add fractional shares of private real estate investments into your investing portfolio on your terms, without having to go through a preexisting REIT or fund. We believe you should have the ultimate say in which projects to invest in and how much to invest in each project, meaning your portfolio can be completely tailored to your own unique financial situation and risk tolerance. Best of all, our low investment minimum of $1000 it easy to try the platform out, while also giving you the chance to easily diversify your portfolio over as many (or as few) projects as you like.
Our returns are powered by venture loans to real estate entrepreneurs, originated and serviced by Groundfloor. These real estate entrepreneurs (called "borrowers") apply for financing for their real estate projects through Groundfloor. We then combine rigorous third-party reporting and analysis of the proposed project with our 100+ years of collective real estate experience to accept and underwrite the project. The loan is then passed through our loan grading algorithm, which assigns a letter grade "A" through "G" to the loan to denote the relative risk level. Each grade corresponds to a range of interest rates that properly price the risk. Grade A loans are generally low-risk and offer correspondingly lower returns, while Grade G loans provide higher returns in exchange for increased risk. Once the loan has been assigned a rate and letter grade, Groundfloor closes and funds the loan.
Once loans are funded, Groundfloor creates investment securities (Limited Recourse Obligations, or LROs) based on the loans and files them for qualification with the U.S. Securities & Exchange Commission (SEC). Investments are released on our platform for individual investors to invest in on a fractional basis, with as little as $10. Once the loan is repaid to Groundfloor, investors in the corresponding LRO receive principal and interest repayments, which they can withdraw at any time or reinvest into more LROs.
For more information about our model and how we are different from other real estate investing companies, please refer to this blog post. Now, let's get into how you get started as a Groundfloor investor.
Getting Star

ted: Linking

Your Account And Your First Funds Transfer
To get started investing, you must first create an investor account and connect your bank account. Here is what the initial steps of this process looks like:
First, you will need to provide some basic information to setup your account.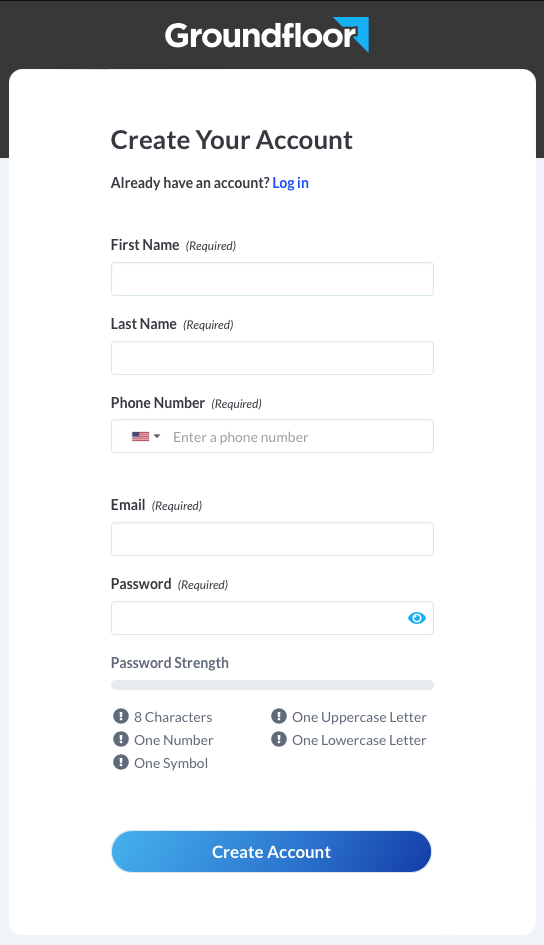 Next, you will be asked to add a funding source for your account. You have the option of instantly linking your bank account via Plaid, or manually entering your bank account information.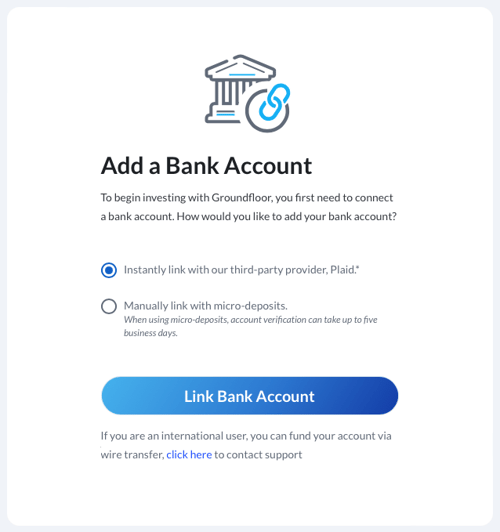 Groundfloor works like an online brokerage, as you deposit funds via transfer from your bank account. Deposits may take three to five business days to appear in your Investor Account. Once deposited, the funds are held in your name (not Groundfloor's) and are FDIC-insured until invested.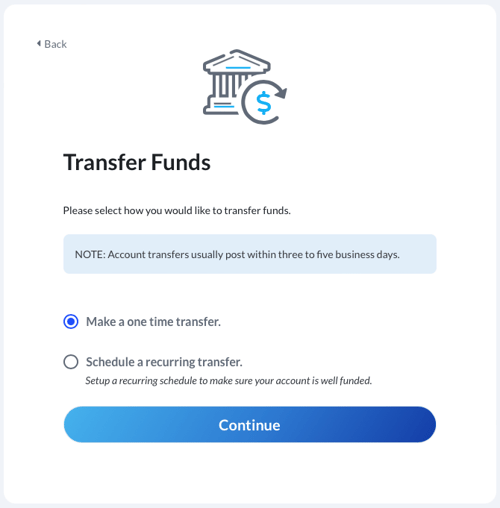 In addition to transferring funds in as you go, you can also set up an automatic funds transfer schedule to ensure you are ready to invest whenever new loans are released on the platform: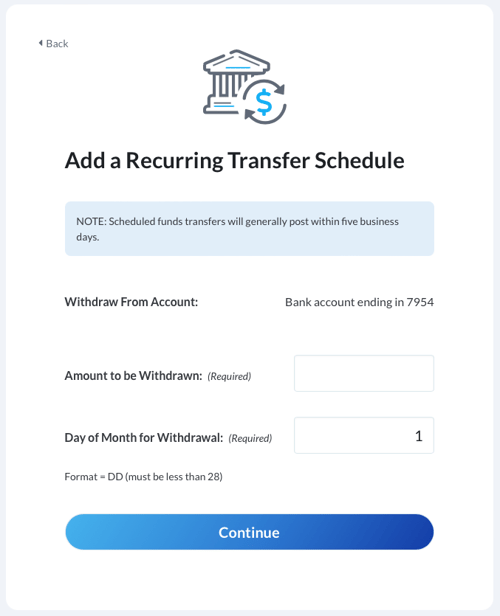 Groundfloor also offers several features that you can take advantage of to help further your investing strategies. Looking to only invest in loans that have certain letter grades or are in certain locations? The Investment Wizard is a tool that automatically matches available loans with investment criteria you can select and customize, making it easier to invest in the loans you want in just a few clicks. Prefer to set it and forget it? Our new Automatic Investing feature allows you to allocate specific dollar amounts that will automatically fund projects that match your risk tolerance, ensuring your funds are continuously being put to work without the need to actively login and invest. Want to invest towards your retirement? Take advantage of the high yield Groundfloor LROs can provide while allowing your money to grow tax-deferred or tax-free through a Groundfloor self-directed IRA.
Investing: Our Loans, Grades, Rates, Terms, and Payment Structures
Once your bank account is linked and you have investable funds in your Groundfloor account, you can begin investing in Groundfloor loans.
As mentioned above, our team directly originates all the loans that are offered for investment on Groundfloor. This means we take the initial application, order background and credit checks, review valuation reports and feasibility studies from third-party providers, and analyze the borrower's renovation plan to assess the project's likelihood of success. When we're satisfied, we pre-fund the loan with our own capital so work can get underway while we next clear the investment through a regulatory disclosure review process conducted by the U.S. Securities & Exchange Commission (SEC).
Groundfloor loans are graded for risk and yield according to our SEC-approved proprietary grading algorithm and are visually distinguished in our Investment Portal using a color and alphabetical risk grade hierarchy from A to G, and with corresponding color indicators that range from Green to Red. Low risk, lower-yield loans are graded A, B, and C while the high risk, higher-yield loans are graded D through G. Most loans offer yields from 7.5 to 14% and terms from 6 to 12 months. Check out the image below to see how the grading system is represented on the available investments page:
Interested in learning more about the loan grading factors we employ? Click here to read our blog post.
Unlike many other hard money lenders in our space, Groundfloor offers a unique deferred payment loan product to real estate developers. With a deferred payment loan structure, borrowers defer all interest payments until the end of the loan term; correspondingly, investors receive repayments of principal and interest in one lump sum at the end of the loan term.
Investor Updates And Repayment
Throughout the term of a loan, our Asset Management team tracks the progress of each project, processes requests for draws against the loan balance, and, when necessary, works with borrowers to resolve issues when they arise. During this time, the team provides regular updates to investors in each loan, so investors will always know the status of their investments. Making sure investors are well informed of the health of their investments is of the utmost importance to our team and is a unique feature of our lending and investing platform. To further promote transparency, Groundfloor also publishes a detailed report each month on loan repayments and asset management activities to give investors even more information about the performance of their investments.
Click here to read a detailed walkthrough (including case studies) of our Asset Management team's careful monitoring and management procedures.
Now, the thing we've all been waiting for: getting paid. One attribute that makes Groundfloor unique is our short holding period compared to other investments. Almost all Groundfloor loans have terms less than 12 months, which means you get your money back faster. Sometimes loans run into trouble -- either because extra time will be required to complete renovations, sell or refinance the property, and repay the loan (an "extension") or because our team has decided to pursue legal action against the borrower (a "default"). You can see statistics on how often this can be expected and how such loans tend to perform in regularly-performed analyses of loan performance on our blog and in our ongoing monthly regulatory filings.
Click here to read a recent analysis of loan performance broken out by grade.
Click here to read our latest diversification analysis, which looks at the weighted average of returns realized across all of our repaid loans to date.
Repayment of principal occurs shortly after a borrower sells or refinances the underlying property he or she has rehabbed. Once Groundfloor has collected, we issue a repayment to our investors automatically. You will receive an email and/or text notification of repayment, at which point you may reinvest in a new loan or withdraw your funds. And, of course, you can always monitor your account status and performance on your Investor Dashboard.
Click here to read a detailed explanation of how Groundfloor calculates your investment return.
---
And there you have it: a quick, end-to-end overview on how investing with Groundfloor works. For more in-depth information and answers, please visit our FAQ page or contact us anytime by email at support@groundfloor.us.