Welcome to GROUNDFLOOR! Following the announcement of our nationwide qualification and launch last month, we're now starting to let new investors in from our waitlist. Whether you're a seasoned veteran or a brand new investor with us, we thought you might appreciate a refresher on how GROUNDFLOOR works.

By the time you are done reading this article, you should have an understanding of everything from how to link your bank account, to how loans are originated and graded, what to expect after you invest, and how you get paid.
Getting Started: Linking Your Account And Your First Funds Transfer
The first thing you are going to want to do is link your GROUNDFLOOR account to your bank. Here is what the first step of this process looks like: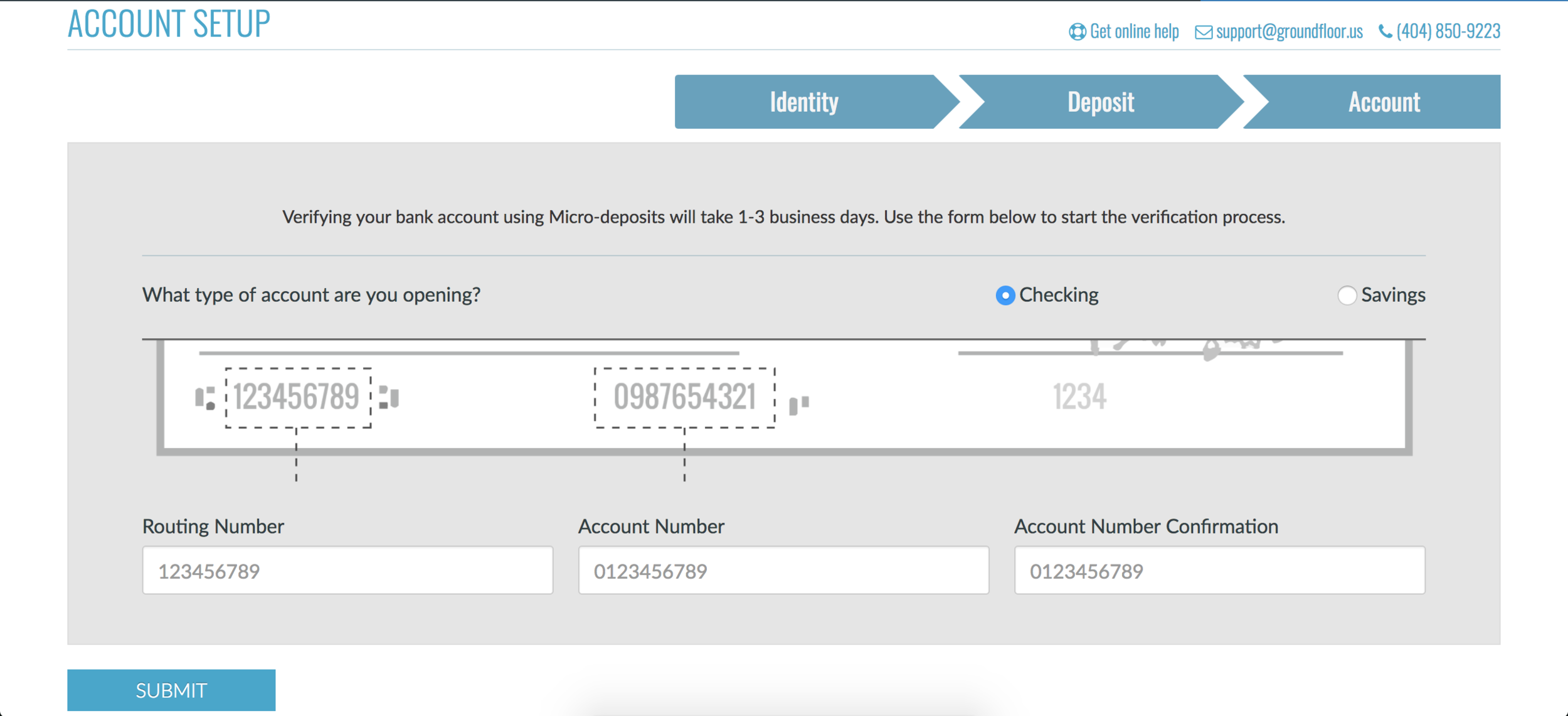 The first step to creating an account with GROUNDFLOOR is to link your bank account.
GROUNDFLOOR works like an online brokerage. You deposit funds via transfer from your bank account. Once deposited (sometimes as fast as next business day, but usually within three business days), funds awaiting investment are held in your name (not GROUNDFLOOR's). All funds held on account are FDIC-insured until invested.
In addition to transferring funds in as you go, you can also set up an automatic fund transfer schedule to ensure you are ready to invest whenever loans are released for investment: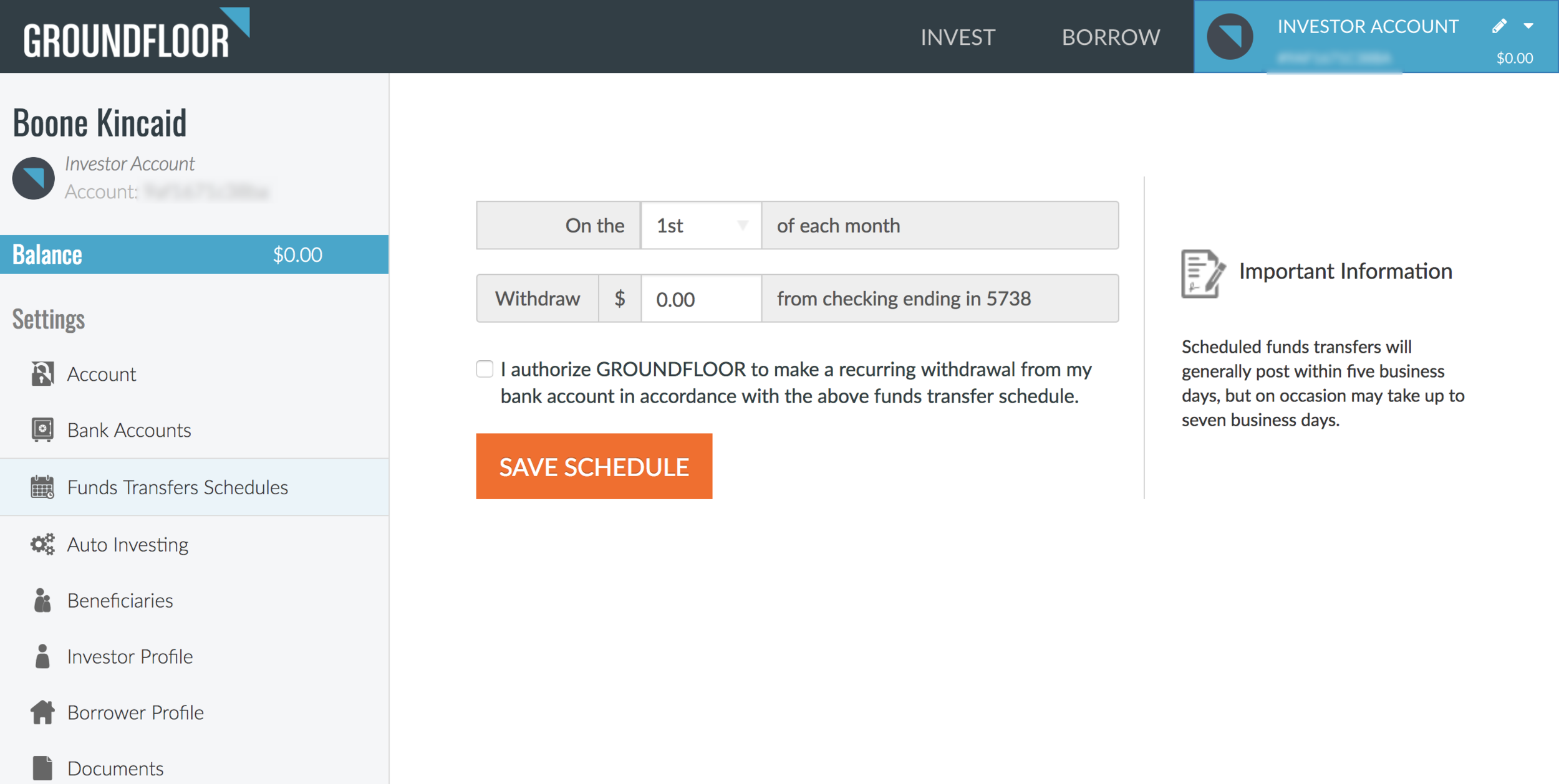 You can set up an automatic funds transfer schedule to ensure you always have funds ready to invest in your GROUNDFLOOR Investor Account.
Investing: Our Loans, Grades, Rates, Terms, and Payment Structures
Once your bank account is linked and you have investable funds in you GROUNDFLOOR account, you can start investing in GROUNDFLOOR loans.
We directly originate all the loans that are offered for investment on GROUNDFLOOR. This means we take the initial application, order background and credit checks, order and review appraisals from our approved providers, and analyze the borrower's renovation plan to arrive at an assessment of the project's likelihood for success. When we're satisfied, we pre-fund the loan with our own capital so work can get underway while we next clear the investment through a regulatory disclosure review process conducted by the U.S. Securities & Exchange Commission.
Click here to read an interview with our Director of Lending Operations to learn more about his role.
GROUNDFLOOR loans are graded for risk and yield according to our SEC-approved proprietary grading algorithm, and are visually distinguished on our Available Investments page using a color and alphabetical hierarchy from A to G, and with corresponding color indicators that range from Green to Red. Low risk, lower yield loans are graded A, B, and C while the high risk, higher yield loans are graded D thru G. Most loans offer yields from 7.5 to 14% and terms from 6 to 12 months. Check out the image below to see how the grading system is represented on the investments page.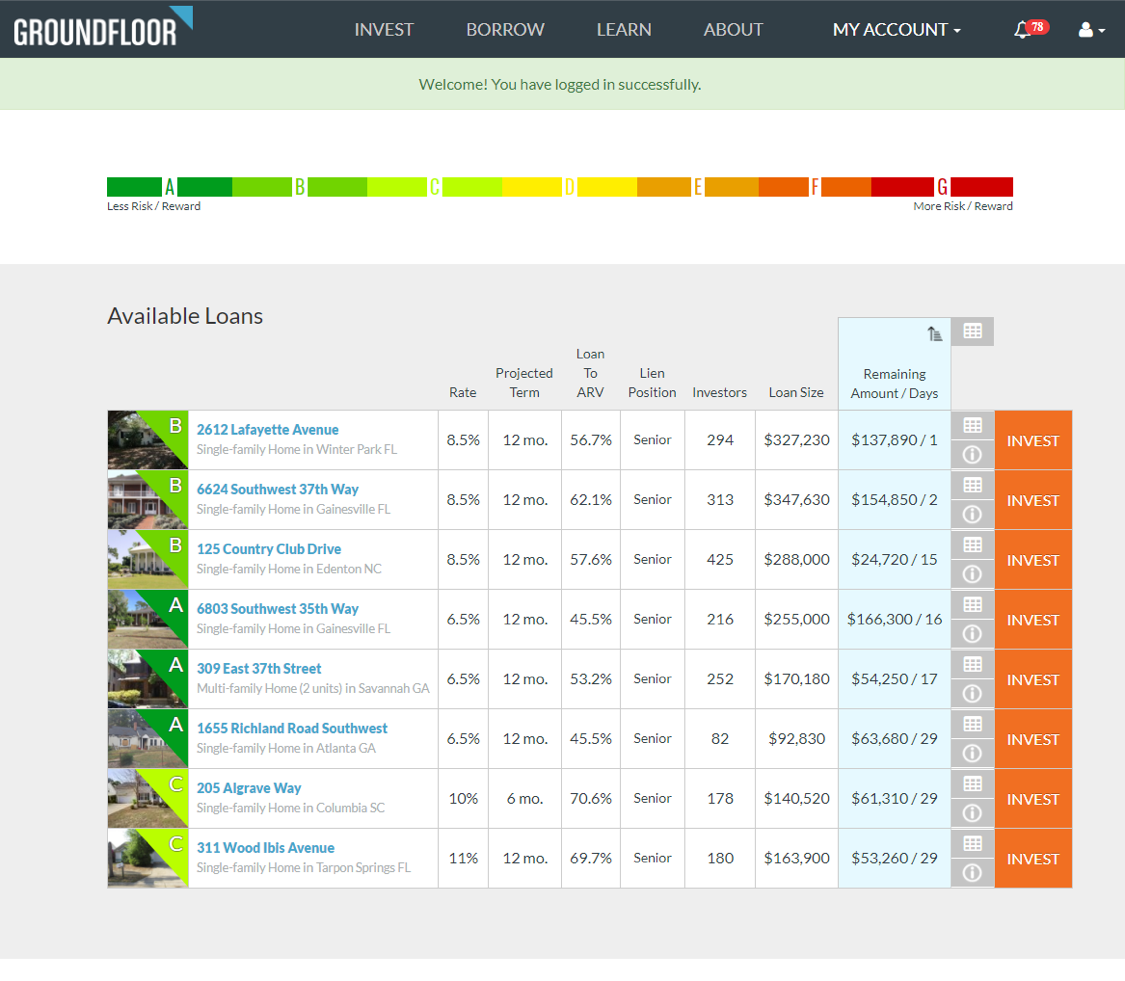 We assign loan grades using a proprietary grading algorithm that has been qualified by the SEC.
Interested in learning more about the loan grading factors we employ? Click here to read our blog post.
GROUNDFLOOR offers two types of loan payment structures: Deferred Payment and Monthly Payment. With a Deferred Payment loan, investors are repaid all principal and interest at the end of the loan, all at once. Monthly Payment loans feature payments of interest at regular intervals throughout the loan's term. Some investors prefer regular interest payments, while others are content to be paid at the end of the term, since that's usually within 12 months.
Investor Updates And Repayment
Throughout the term of a loan, our Asset Management team regularly reaches out to our borrowers to check on progress, process requests for draws against the loan balance, and, when necessary, push for resolution. During this time, the team provides regular updates to investors in each loan, so you will always know the status of your investment.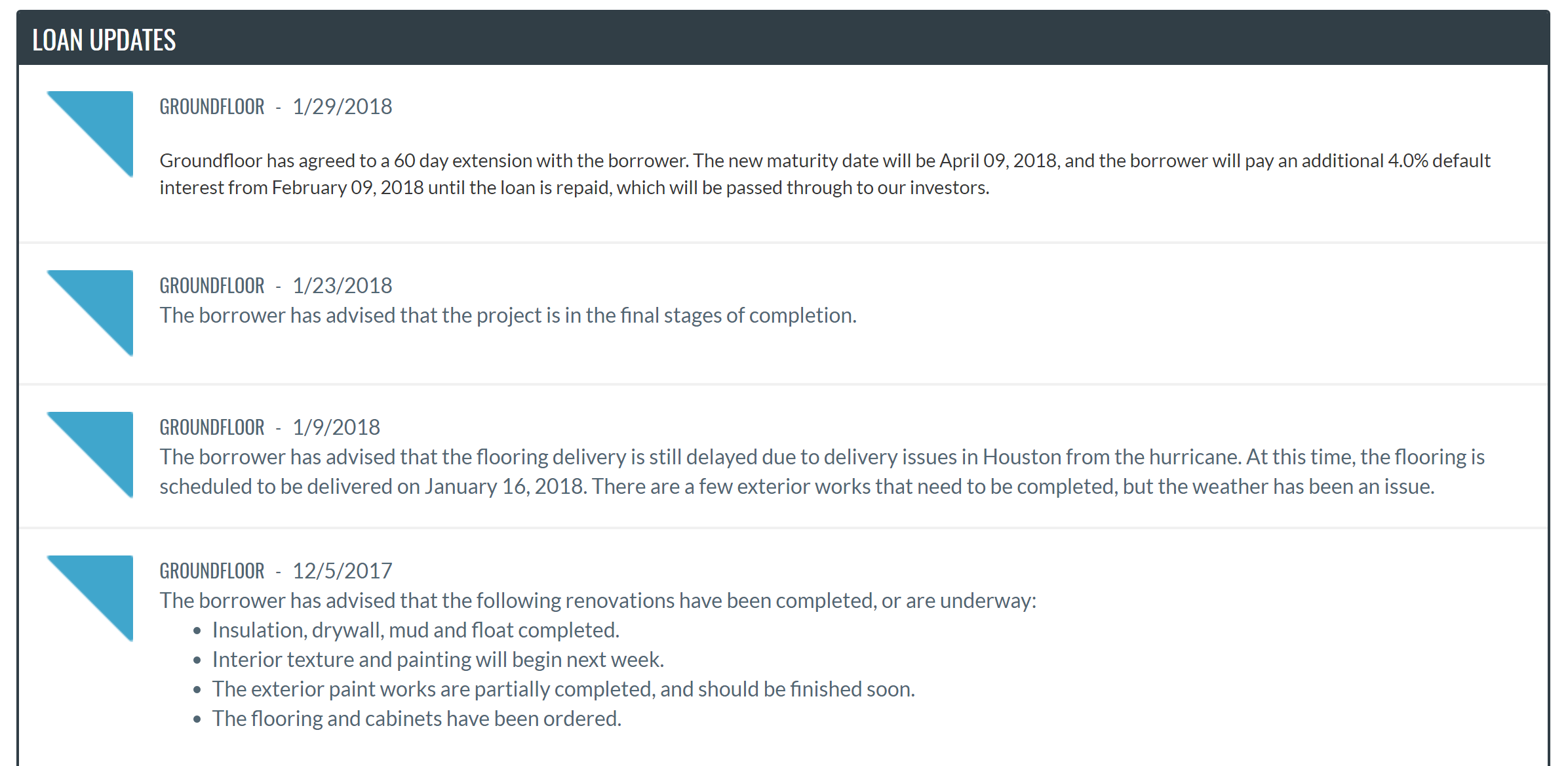 Our Asset Management team keeps investors in each loan updated with regular project updates in your Investor Account.
Click here to read an in-depth case study on how our Asset Management team handled a loan that fell into default to achieve an ultimately successful resolution.
Now, the thing we've all been waiting for: getting paid. One attribute that makes GROUNDFLOOR unique is our short holding period compared to other investments. Almost all GROUNDFLOOR loans have terms less than 12 months, which means you get your money back faster. Sometimes loans run into trouble -- either because a term of our loan agreement with the borrower has been violated (a "default") or because extra time will be required to complete renovations and a sale or refinancing (a "workout" or "default past due" -- also known as a maturity default). You can see statistics on how often this can be expected in regularly-performed analyses of loan performance on our blog and in our ongoing monthly regulatory filings.
Click here to read our most recent portfolio analysis that compares the performance states of loans in our outstanding portfolio to historical repaid loan data.
Click here to read our latest diversification analysis, which looks at the weighted average of returns realized across all of our repaid loans to date.
Repayment of principal occurs shortly after a borrower sells or refinances the underlying property he or she has rehabbed. Once GROUNDFLOOR has collected, we issue a repayment to our investors automatically. You will receive an email and/or text notification of repayment, at which point you may reinvest in a new loan or withdraw your funds. And, of course, you can always monitor your account status and performance on your Investor Dashboard.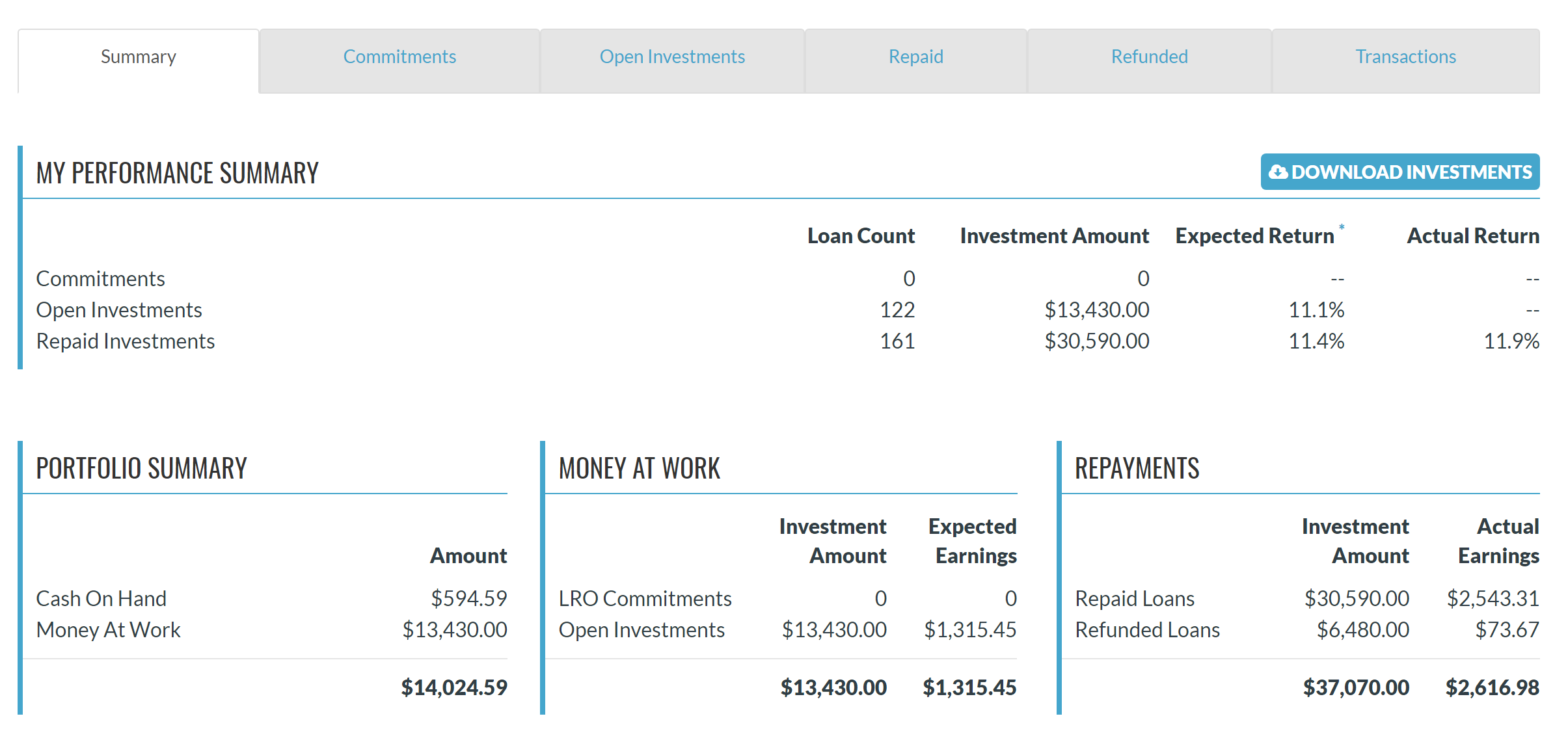 Monitor your account status and performance on your Investor Dashboard in your GROUNDFLOOR Investor Account.
And there you have it, a quick, end-to-end refresher on how investing with GROUNDFLOOR works. For more in-depth information and answers, please visit our FAQ page or contact us by email at support@groundfloor.us.