Get to know the people behind the platform! Meet Rhonda Hills, Groundfloor's Chief Operating Officer. We chatted with her to learn more about her experience, how she came to work for Groundfloor, and how she is staying sane during quarantine.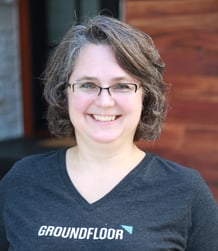 What do you do at Groundfloor?

I am Groundfloor's first-ever Chief Operating Officer (COO). I am responsible for coordinating and streamlining all customer-facing functions to help drive and manage profitable growth as we continue to scale. In practical terms, this means I oversee sales, marketing, lending operations, asset management, and investor relations.
Prior to taking on this new role, I served as Groundfloor's Senior Vice President of Sales and Marketing for over two and a half years.


Where are you from?
My family originally hails from Texas, but I grew up all over the world. My parents both worked for the American Embassy, so I spent my childhood overseas. We lived in England, India, Greece, Mexico, and Brazil. As you can imagine, my only constant growing up was change!
That familiarity with change ultimately benefited me in my career -- I have always been attracted to early-stage and start-up companies, in part because they are always changing and evolving. I'm not afraid to shake up the old formulas or try something new. My childhood taught me how to thrive in changing conditions, and I think that serves me well in my professional life.


What is your background and experience?
I've spent my career in early-stage, "dot com" companies, with over two decades of experience in all aspects of building, launching, and marketing disruptive products and services. In particular, I have a lot of experience building internet-based supply and demand marketplaces.
Prior to joining Groundfloor, I was the Chief Marketing Officer for Dinova, a proprietary marketplace that exclusively connects business diners with preferred restaurants nationwide. Before that, I was Executive Vice President of Operations for BLiNQ Media, an award-winning social media advertising company that connected ready-to-buy consumers with relevant local merchants and offers.
I've always been drawn to the technology space, and I have consistently been a pioneer in experimenting with and adopting new digital channels for marketing. For example, back in the 90s when I worked at AOL, we began experimenting with email marketing before it was even a thing, before there were any tools built for it. It was so new that there wasn't even a button to "unsubscribe"!

How did you come to work for Groundfloor?
In January of 2018, I came across Groundfloor in Venture Atlanta's 2018 "Top 10 Atlanta Companies to Watch" List. It sounded so interesting and was exactly the type of company I look for, so I knew I needed to learn more. As it happened, a lot of people in my professional network knew Brian [Dally, co-founder and CEO], so I got the opportunity to talk with him. He mentioned that he was actively looking to fill a Chief Marketing Officer role -- and the rest is history!

You are the company's first-ever COO -- can you talk a bit about how that position came into being and what the intention was in creating this position?
We created this role in response to the rapid growth Groundfloor was experiencing. In addition to facilitating the company's growth, the organizational change marks an important inflection point for the company to pursue long term strategic initiatives that expand the company's operations, customer value, and economic impact, including new product development and distribution partnerships.
It has been interesting and uniquely challenging to take on this role during such an odd year, but it's also incredibly rewarding. Even in the face of COVID-19, we have achieved record-breaking growth, won more than half a dozen major industry awards, and rolled out exciting new products and services to better address the evolving needs of our customers. I'm excited by the opportunity to build and scale our operations to meet the growing demands of our borrowers, investors and shareholders.


As COO, what are your long-term goals for Groundfloor as we continue growing and building out our lending and investing capacities?
Our mission as a company is and always has been to level the playing field in investing and to give everyone simple and direct access to private investment opportunities that can help them build wealth. I want to help Groundfloor become a household name, one that is widely recognized (and utilized!) as a way to improve everyone's financial health and build wealth.


What excites you most about Groundfloor? What is your favorite part about working here?
What first attracted me to Groundfloor was its mission of providing alternative investment opportunities to everyone, not just the wealthiest among us. This mission continues to inspire me. I love working to create something that is bigger than I am, that is bigger even than the company itself. We are creating an entirely new way that people around the country can save and invest for their futures. I feel fortunate to be a part of a team that is truly making a difference.


How have you been staying sane during quarantine? Any fun quarantine projects?
While I haven't picked up any new hobbies or projects during this time, I've always been very into jigsaw puzzles, so quarantine has allowed me to really lean into this. My favorite puzzles are the massive ones with thousands of pieces, and I've been enjoying being able to put a piece in here and there as part of my new office environment!
Thanks, Rhonda - we appreciate all you do!