Get to know the people behind the platform! Meet Petra Jaros, Engineering Manager for Groundfloor's Mobile Team. We caught up with her to talk about her role, how she came to work for Groundfloor, and what she enjoys most about the company.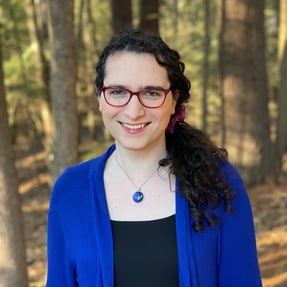 What do you do at Groundfloor?
As Engineering Manager for the Mobile team, I mostly do things to make sure other people can do their work effectively. I work with our product owner and our designers to make sure we have super clear work for engineers to pick up; I work with the engineers to make sure we're investing in our tech stack correctly so we can keep delivering; and I work with everyone together to make sure the team's processes are helping and not hurting. If I'm doing my job right, the team can do their thing and get a little joy into customers' hands every week.


Where are you from?
I hail from Western Massachusetts, originally up in the hills. I went to Upstate NY for college and then moved down to NYC for a few years, but I knew I had to come home, and I've been living here (and working remotely with folks around the world) ever since.

What is your background and experience?
Out of college, I jumped right into the startup world in NYC, and soon ended up at Pivotal Labs, then still a fairly small consulting firm, where I got my footing in agile practices. I left Pivotal and went freelance for a while, working on projects that ran the gamut from an email SaaS product to an early crowdfunding platform. After that I landed at CircleCI, where I stayed for 6 years as we grew from 25 people to 500, and I grew into a role closer to what I do now. I showed up at Groundfloor as an engineer, but it was clear that I could bring a lot of value to the team by applying the process lessons I've learned to help the team keep cranking.

How did you come to work for Groundfloor?
About 15 years ago (!) I was at Bard College and looking for some software development community. I found a "local" meetup about half an hour away and decided to go for it. It turned out the only person still involved was one Chris Garrett. We hit it off and he hired me to apply what I was learning in school about acoustics to a guitar tuner project he was working on for the hot new gadget, the iPhone. I didn't actually have one yet, but I set myself up with Xcode, the iPhone Simulator, and a fast Fourier transform library, and got some code running.
We stayed in touch, and one day Chris ended up at Groundfloor building out a mobile team just as I was looking for something new. I hadn't done anything with mobile apps since that guitar tuner, but I did have a lot of React experience, and his team was using React Native, so it was a great fit.
I came on only about 6 months ago, but in that time, the Mobile Team has almost doubled in size. We're growing fast, and so far that seems to be working out great!


What excites you most about Groundfloor? What is your favorite part about working here?
I love my team. I'm incredibly lucky to work with an amazing crew of folks. Each member of the Mobile Team is smart, collaborative, curious, and engaged. As long as I can keep up with them, it's incredibly satisfying to facilitate their excellent work.


Which of the Groundfloor company values resonates most with you and why?
The Groundfloor values are a big part of what attracted me to Groundfloor in the first place, and I resonate with all of them (and they feel very much like a package deal to me). But I think the one that means the most to me is Kindness. I've had incredibly good luck in my career to always work with kind people, and Groundfloor is no exception. I forget sometimes that there are workplaces where kindness isn't valued, and it can crush souls and turn people bitter. It's also not effective! When people feel safe enough to be their whole selves, to make mistakes, and to admit they don't know things, we do much better work than when we live in fear of being scolded or bullied. And more importantly, everyone's lives are just better.

When you're not at work, what can we find you doing?
I have a preschooler who takes up most of my life outside of work. But when I do get some time to myself, you can probably find me playing something like Hades or Infinifactory, or trying to get the timing right for a board game night.

Thanks Petra - we're lucky to have you as part of the team!