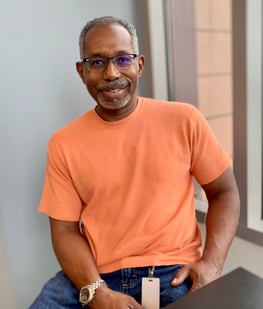 Get to know the people behind the platform! Meet Gregory Waddy, Director of Lending Operations at GROUNDFLOOR. We sat down with Greg to learn how he came to GROUNDFLOOR, what his day-to-day looks like, and what his surprising hidden talent is.
Q: What do you do at GROUNDFLOOR?
I am the Director of Lending Operations.
Q: Where are you from?
I'm from Charleston, SC.
Q: How did you end up at GROUNDFLOOR? What is your experience?
I've been in the mortgage and lending industry since '95. I worked as an auditor for Fannie Mae for several years, then joined the Angel Oak team as an auditor for two years. I spent three more years at Angel Oak as an underwriter before coming on board with GROUNDFLOOR.
A colleague of mine (who actually now works here in my department) initially turned me on to GROUNDFLOOR because she got a lead on an underwriting position with the company that she then passed along to me. I took a look at it and decided to apply.
Serendipitously, I'd worked with the former head of the department before, so I connected with him once I applied and he brought me in for an interview. I was very impressed with GROUNDFLOOR's concept and with all the people I met on the team, so when the company extended an offer, I was excited to accept.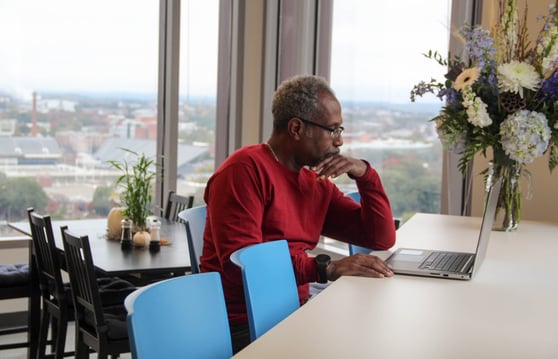 Q: Can you give a little snapshot of what you/your team's day-to-day looks like?
In a nutshell, my department manages the operations process for all of the loans we extend. This entails the processing, underwriting, closing and post-closing of loans -- basically everything that happens after a loan is originated. Once a borrower has been contacted by one of our Business Development Managers and the loan file is submitted, my department steps in to shepherd the loan through the underwriting and closing process. We handle all third-party partners (such as appraisers, settlement agents, and the like) while also ensuring all necessary documentation is correct and accounted for
Our department is currently made up of six people, ranging in experience from three years to over 30 years in the industry. We have one processor, two closers, one underwriter, one operations assistant, and one operations manager. Together, our team typically closes around 50-65 loans a month, and we underwrite 80-90 loans a month.
Q: What is your favorite part about your job?
The people, hands down! I am definitely a people person and I love the interaction and camaraderie we have -- to be honest, coming to work is often one of the highlights of my day! I really love the members of my department; we work hard, but we enjoy each other, and that's all you can really ask for.
Q: What is your favorite midday pick-me-up?
I always like to take a break by getting out from behind my desk and interacting with my team. As I mentioned before, I'm a people person, and connecting with my colleagues helps reenergize me.
Q: What is your hidden talent?
Believe it or not, I used to sing! I was in the Morehouse College Glee Club as well as South Carolina honors choirs. I'm a fan of most all music genres, except for country.
Q: What is your favorite item on your desk?
My pencils! I have a collection of mechanical pencils, all of varying sizes -- I write with about 4-5 different ones throughout the course of the day because I like changing things up.
Thanks so much, Greg!