Get to know the people behind the platform! Meet Ariel Gibbs, a Loan Servicing Associate on Groundfloor's Asset Management team. We caught up with her to talk about her role, how she came to work for Groundfloor, and what she enjoys most about the company.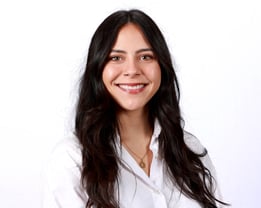 What do you do at Groundfloor?
I joined the team around two and a half years ago, initially as a Customer Success Specialist. In this role, I worked very closely with investors – answering questions about the platform, helping investors understand Groundfloor and what we do, and working with the engineering team to resolve any user issues. I was fairly new to the real estate investing world at the time and I learned so much through my work on the Customer Success team.
After about a year in this role, my manager Joey [Wilson, VP of Customer Success] approached me and told me he thought I would be a great fit for the Asset Management team. So, I transitioned into that role and have been doing that for about a year now. This role is essentially "customer service for borrowers" – I work very closely with our borrower base to make sure their projects are progressing as planned and generally give them the support they need. Additionally, I help process loan payoffs and provide investor updates on active loans.


Where are you from?
I'm originally from Mobile, AL. I moved to Washington, DC for college, then to Atlanta a year after I graduated. I've been in Atlanta for about 4 years now.

What is your background and experience?
My first job out of college was a contractor role helping to put on large-scale events in DC. For example, I helped organize the Shakespeare Gala, the National Book Festival, and other similar large events. It was a really fun experience!
When I moved to Atlanta, I began working as the general manager at a small co-working space with a similar setup to WeWork. It was a small company – I think there were only 10 employees total when I was there – and I really enjoyed the startup feel of being a part of a growing company.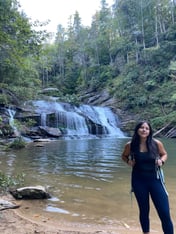 How did you come to work for Groundfloor?
I actually heard about Groundfloor a lot while I was working in the startup space here in Atlanta, so I already had it in the back of my mind as a potentially good place to work when I began job hunting. When I saw the Customer Success Specialist position was open, I decided to apply. It was definitely outside of my comfort zone as I had never worked in financial services before, but that was part of the reason it appealed to me. And lo and behold, I got the job. Fast forward two years, and here I am!

How have you seen your role change as Groundfloor grows?
The Asset Management department has undergone a ton of changes since I joined the team! When I started in Asset Management, there were essentially just two or three people handling all of primary and special servicing, which was insane. That lasted about two months, then we started growing exponentially. Our loan portfolio grew 300%, from about 250 to over 1,000 active loans. We also hired a bunch of folks to build out the department. We now have nine people in Asset Management and we've since split the department into two sub-teams (primary servicing and special servicing) to further distribute workload and better help borrowers.
This growth has made a huge difference for everyone and has really improved the Asset Management experience, both for our employees as well as our borrowers. We've worked really hard to create a defined process for everything we do, and it's been gratifying to see our borrower satisfaction ratings increase. I have enjoyed being able to spend more time talking 1-on-1 with borrowers to learn about the challenges they face, especially in our current macroeconomic environment. I think it makes a big difference that we take the time to really understand our borrowers, and it is definitely one of the things I love most about my role.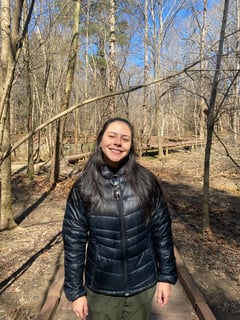 What excites you most about Groundfloor? What is your favorite part about working here?
I really love working for a startup! I love watching the company grow, and I love that employees are able to grow and advance in their careers right alongside it. For example, my manager saw potential in me and approached me about an opportunity in another department. To be honest, I don't know if I would have pursued that opportunity otherwise, but I am so glad my manager pushed me to consider it. I think this happens a lot at Groundfloor. Because we all work so closely together, the management team is really able to identify potential and push team members to grow and excel, which I think is really cool and something unique to a smaller company like Groundfloor.

Which of the Groundfloor company values resonates most with you and why?
I'd have to say agility. Groundfloor is a fast-paced environment and things change quickly, so you have to be able to trust that other employees can roll with the punches and still do their job well. I think agility is a big component of having trust in the folks on your team and in the company more generally.

When you're not at work, what can we find you doing?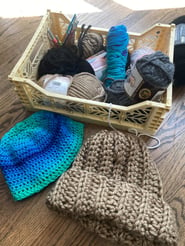 I really enjoy working out, and I started getting into it more during the pandemic since it was one of the only things we could all still do. I took up running, I started a yoga practice, and I joined a local CrossFit gym in my neighborhood, which has been great.
I also am a big crafter – I love trying my hand at new projects and hobbies, even if they turn out terribly. For example, I recently took up crocheting and decided to make hats for everyone for Christmas last year. They were pretty awful, but everyone loved them – my boyfriend still wears his hat all the time! I've also tried making jewelry and doing DIY home projects. There have definitely been a lot of failed projects, but I think that's how you find what you're good at. It goes without saying that once I am ready to buy a home, I am making sure it has a craft room!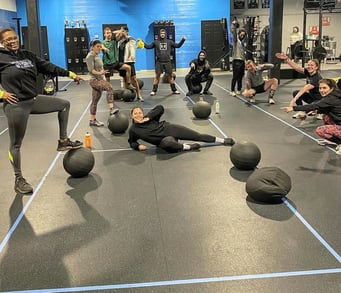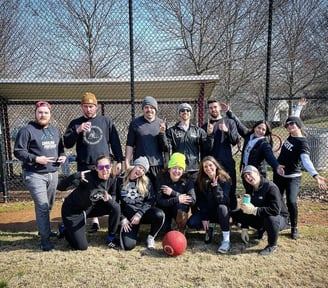 Thanks so much, Ariel! We're lucky to have you as part of the team!