Get to know the people behind the platform! Meet Angela Ferguson, GROUNDFLOOR's Project Manager for Sales and Operations. We chatted with her to learn how she ended up at GROUNDFLOOR, what her favorite part of her job is, and the surprising desk object she values most.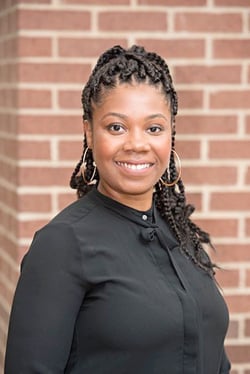 What do you do at GROUNDFLOOR?
I'm the Project Manager for Sales and Operations, helping to ensure our borrowers experience a smooth process from app submission to loan closing. Among lots of other things, I also help ensure our company operations remain in compliance with the U.S. Securities & Exchange Commission.
Where are you from?
I'm originally from Cincinnati, OH - I loved it there when I was growing up, but will never live there again!
How did you end up at GROUNDFLOOR?
Like many of my colleagues, I was actually found by a recruiter! I was set up for a phone interview with Ben [Armstrong, former VP of Customer Operations]. He liked what I had to say, so he brought me in for an in-person interview at GROUNDFLOOR.
This interview ended up being almost four hours long! Everyone I met with was so impressed with me that they kept bringing in more people to talk to me. I even interviewed with one of the team members over FaceTime! It was truly the weirdest interview I'd ever been on, but it was also really funny. And it must have worked out because they called me on my way home to offer me the position!
That initial position was in a sales capacity, handling loan originations. After a month, though, I was switched to Loan Originations Manager, which was more of a processing role. I then transitioned into loan operations once we hired a full-time processor, and I spent about a year in this role. Finally, I stepped into my current position as Project Manager.
All told, I've been with GROUNDFLOOR for just about three years - and I feel like I've sampled almost every position!
What is your favorite part about your job?
There are so many things I love about this position - it's flexible, I'm never bored, and the people are all amazing! But I have to say that my favorite thing has been what this job has pulled out of me. I find myself rising to every challenge and working that much harder to overcome whatever obstacles are in my way to help propel this company into the bright future I know it has. I truly believe in the GROUNDFLOOR vision and what we stand for, and I love that I'm able to work actively to help us get there.
Additionally, because my position interfaces with so many other roles and teams and I am in many ways the touchstone for so many of our company operations and processes, I am motivated to live our company values daily to be the best teammate and the best version of myself possible. I think that's all you can really ask for!
What is your favorite midday pick-me-up?
Peanut M&Ms!!
What is your hidden talent?
I am a GROUNDFLOOR software ninja! Because I have been with the company for this long in so many different capacities, I'm intimately familiar with our administrative software systems. I know all the know all the little walkways and tunnels to get around everything, so when anything goes wrong, I'm usually able to quickly MacGyver something to keep everything functioning properly!
What is your favorite item on your desk?
This is going to sound weird, but it's my calculator - it recently went missing and I didn't realize I was so attached to it until it was gone! My little nephew hid it from me somewhere - I still haven't found it.
I tend to get overly attached to the stuff on my desk - I have strong feelings about my stapler and my tape dispenser as well!
Thanks so much, Angela!