With over 300 active loans currently on our platform, it's clear that we have some incredible home renovations in progress all around the country. While you may have come across these homes on our platform, we thought it would be of interest to highlight the people behind the projects and give a little more detail about their work. To that end, we're beginning a monthly Borrower Spotlight post, in which we interview some of our best borrowers and delve into what has made them so successful.
First up is Jarrick (Jay) Henderson, a 26-year-old Atlanta native currently working on two flips in the metro Atlanta area with our help. Though he just began his house flipping career, he's stunned our team with his talent, attention to detail, and always-positive attitude. We sat down with Jay to chat about his journey into the home renovation business and what he has on the horizon.
---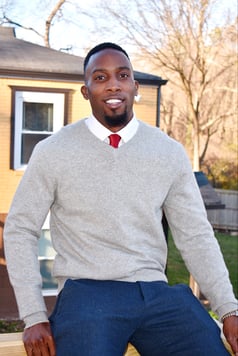 Q: How did you get into home renovation/house flipping? Tell us about your backstory!
Believe it or not, my journey getting into house flipping started from a chance meeting at the gym! I was going to school in Kennesaw to obtain my business degree, and one day while at the gym I happened to meet the man who would later become my mentor. I learned he was in the real estate industry and my interest was sparked.
I began doing some side projects and odd jobs for my mentor, and under his guidance I soon began dabbling in real estate wholesaling. For whatever reason, I just completely fell in love with real estate, and I wanted to learn as much as possible about it! So my mentor took me completely under his wing and together we began completing flipping projects in earnest.
Because of the knowledge and experience my mentor helped me gain, I launched my own LLC, called Create A Steady Hustle LLC, in October of 2016. I was able to complete my first solo project in Marietta in 2017 with the profits from one of the houses I worked on with my mentor.
Q: How many projects have you completed? How many are you currently working on?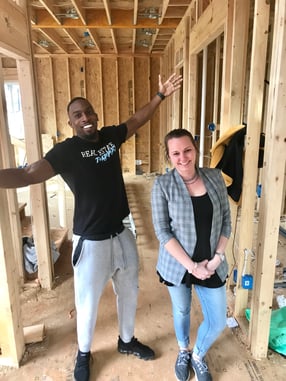 As I mentioned before, I first got my start working alongside my mentor. In total, we've done about 10-12 renovations together. Currently, I have two projects underway right now - one in Kirkwood and the other in Decatur. They are coming along well and should be finished in a couple of months. I'm gunning to get a third project underway soon as well.
Q: What are you especially excited about with these projects?
I'm very excited to see whether or not there will be a bidding war on the Kirkwood house! The Decatur house is a fun project as well, but is mostly to help keep the business going. The Kirkwood house is really the jewel in the crown.
Q: What is your connection to Atlanta? Why did you decide to get into this business here?
As someone who is from Atlanta originally, it was a no-brainer to me to go into business here. I've learned that in this industry, it's all about who you know and the relationships you cultivate. I have an advantage because I already have great connections here, and to be honest it would be hard to know who to trust anywhere else.
Plus, the Atlanta real estate market is still wide open! I recognize I'm blessed to have the access points I have into the field, but it's exciting to know that the Atlanta market truly has endless possibilities. As long as you are putting out quality work, there will always be people interested and willing to purchase your product.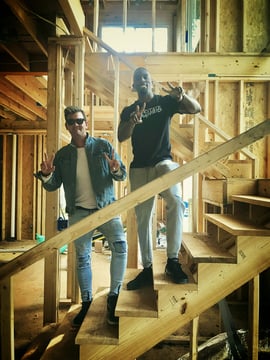 Q: How did you find GROUNDFLOOR?
It was a referral! I worked with a real estate agent who had heard of GROUNDFLOOR and suggested it to me as a financing option, and the rest is history.
Q: What has been your experience working with GROUNDFLOOR?
It's been absolutely awesome! The deferred payment option has been amazing and so beneficial for my growing business. Additionally, I've loved working with the Asset Management team - Daniel and Brianne have given me such amazing, personalized attention and I couldn't be happier with how seamless the process has been so far.
Q: What are some of your goals for your business in the next few years?
In general, I'm very interested in breaking into the new construction market. Not only is it easier to complete in many ways, but you can also make some serious money compared with just doing renovations. Ideally, I'd love to get into building some modern-style townhomes within the city.
In terms of goals specifically for 2019, I'm currently aiming to complete four projects/loans - one of which will hopefully be new construction.
Q: What's your favorite ATL neighborhood?
It's gotta be Little 5 Points! I love the diversity - there are just so many different kinds of people all in the same place. Also, Little 5 is home to one of my favorite spots to eat: Zesto's! Whenever I surprise my guys onsite with lunch, it's always from Zesto's.
Thank you so much, Jay! We're looking forward to seeing how everything turns out.
---
Project List:
184 Clay Street SE, Atlanta, GA 30317 - completed
2105 Holly Hill Drive, Decatur, GA 30032 - currently funding
201 Clay Street SE, Atlanta, GA 30317 (1) - currently funding
201 Clay Street SE, Atlanta, GA 30317 (2) - currently funding
209 Clay Street SE, Atlanta, GA 30317 (1) - fully funded
209 Clay Street SE, Atlanta, GA 30317 (2) - currently funding