With over 300 active loans currently on our platform, it's clear that we have some incredible renovation projects happening around the country. While you may have come across these homes on our platform, we thought it would be of interest to highlight the people behind the projects and give a little more detail about their work. To that end, we've begun a Monthly Borrower Spotlight post, in which we interview some of our best borrowers and delve into what has made them so successful. You can read our previous Borrower Spotlight post here.
This month, we caught up with North Carolina-based renovator Eileen O'Neill, a veteran borrower with GROUNDFLOOR who has completed over 10 projects with our help. We love her thoughtful, unique style for each of her projects, and we're always excited to help make her vision a reality. We recently hopped on the phone with Eileen to chat about her journey into real estate and what she has on the horizon.
---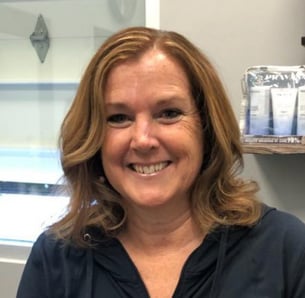 Q: How did you get into home renovation/house flipping?
It all started back in 2013. My mom had always talked about getting a beach house, so we decided to go for it and ended up finding a lovely house to renovate together. Over a 6 month period, we worked diligently to find the perfect colors, furniture, and other details to create our ideal beach house. Sadly, my mother didn't make it to see the completed home - she ended up passing away before the work was done.
We loved the process of creating a home and decided this was something we wanted to continue doing together. So after losing my mother, I decided to continue with the work we started as a way to honor her, to live out her legacy.
Q: How many projects have you completed? How many are you currently working on?
I've been flipping homes for almost 6 years now, so I've got quite a few under my belt! To date, we've completed about 16-17 houses, two of which are currently on the market. I have one house in the works right now.
Q: Can you tell me about some things you're currently working on? What are you especially excited about?
So the story behind the current house we're working on is really serendipitous. The address of the home is 3 Evelyn, which is super meaningful to me as that was my grandmother's name as well as my mom's middle name. So when I saw the house on the market, I just knew that I was going to own that house. I even told my real estate agent that, pretty much verbatim!
Buying a home can often entail multiple rounds of offers and multiple interested parties, and this house was no exception. But, incredibly, after an unsuccessful first attempt, my offer was accepted and I became the owner of 3 Evelyn! It's extra special for me because of the name - it feels like my mother is still with me, helping with projects just like we'd always planned.
More generally, one of the coolest things about doing what I do is the relationships you build. Since I've been renovating houses for several years now, my realtors and attorneys and such have evolved to be more than just colleagues and professional contacts - they are my friends now. In a similar vein, I love that my work allows me to become a part of the neighborhood, a part of someone's story of becoming a homeowner. I love the idea that my hard work becomes the starting point for another person or family to begin making their own special memories. It's a pretty powerful and humbling feeling!
Q: What is your connection to North Carolina? Why did you decide to get into this business there?
I've lived in Charlotte for years, but when I first ventured into rehabbing, the entry price point in Charlotte was too high. So I started looking out in the area near the beach house for properties that were more in my budget. And that kind of just stuck!
It's nice to work in that area - now we have the chance to spend time at our beloved beach house while we're working on our other projects, and what could be better than that?
Q: How did you find GROUNDFLOOR?
To be honest, I don't even remember! Whatever led me to find GROUNDFLOOR, I'm so happy it did, because since I found GROUNDFLOOR I haven't used anyone else for my financing.
Q: What has been your experience working with GROUNDFLOOR?
Overall it has been very positive. One thing I love most about working with GROUNDFLOOR is how willing they are to step up to the plate to fix any issues - especially Daniel [Tucker, Senior Asset Manager]! House flipping can be unpredictable and frustrating at times, and inevitably there are small things that can fall through the cracks. But whenever that does happen, GROUNDFLOOR is right there to do everything they can to make it better.
I love that I can pick up the phone and make a call when something isn't going as planned and the response is always "don't worry, we'll fix it." And they always do!
Q: What are some of your goals for your business in the next few years?
I want to be doing it full-time! I'm ready now to focus 100% on this business I've developed. I also hope to have a steadier team and strong contractors as I continue moving forward.
Q: What's your favorite neighborhood/area where you live?
I mentioned before that I live in Charlotte, but I actually live a little north of there, in the area around Lake Norman - and I'm convinced it is the most beautiful place to live. In fact, every time I go out of town on vacation, I always come home and think, "I don't know why we ever go anywhere else, it's so gorgeous here!"
There's always so much to do, and all of the little towns around the lake are so quaint and so well-cared-for. It's clear that people really take pride in where they live!
Thank you so much, Eileen! We love working with you!
---
Project List:
1201 Louise Avenue, Charlotte, NC 28205 - completed
212 West Volant St, Hubert, NC 28539 - completed
106 Little Current Lane, Sneads Ferry, NC 28460 - completed
411 Cardinal Road, Jacksonville, NC 28546 - completed
101 Meadow Trail, Jacksonville, NC 28546 - completed
10 Sheffield Road, Jacksonville, NC 28546 - completed
215 Noble Lane, Jacksonville, NC 28546 - completed
3022 Oakwood Drive, Jacksonville, NC 2846 - completed
119 Investment Lane, Jacksonville, NC 28540 - completed
105 Lanier Drive, Jacksonville, NC 28546 - completed
905 Winchester Road, Jacksonville, NC 28546 - completed
214 Rochelle Drive, Morehead City, NC 28557 - completed
3 Evelyn Circle, Havelock, NC 28532 - fully funded